Sweet & Sour Sesame Chicken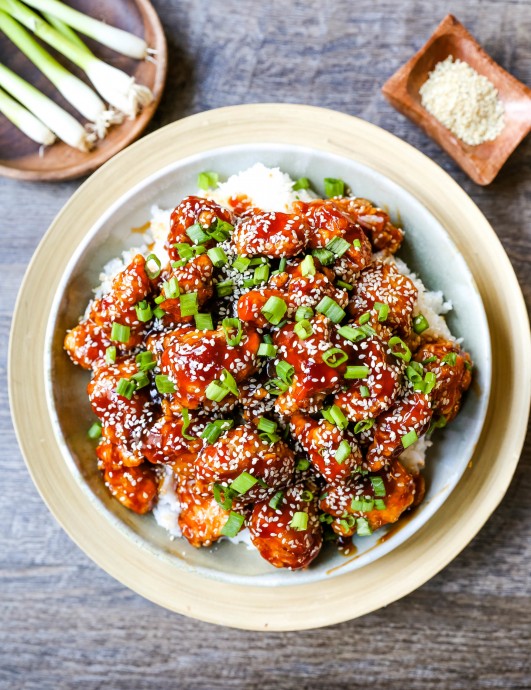 Homemade Chinese Sesame Chicken made with crispy fried chicken covered in a sweet and sour sauce. The ultimate sesame chicken recipe is way better than take-out.
This Chinese Sesame Chicken is made with boneless skinless chicken breast, cut into bite-size pieces, dredged, and then fried until golden and crispy. The sweet and sour sauce is divine! It is a little spicy and a whole lotta sweet. It is made with honey, brown sugar, rice vinegar, garlic, soy sauce, ketchup, ginger, and red chili flakes. It is heavenly! The sauce has the perfect balance of sweetness with a touch of sour from the rice vinegar. It has the right amount of sweet honey which creates the perfect coating to the chicken.
The best and easiest recipe featuring crispy chicken covered in sticky sweet and savory sauce with sesame! To make this chicken, all you need are a few everyday ingredients that you can get at any food store or supermarket. This recipe is super simple, and you can make it anytime you want. For a wholesome meal and easy weeknight dinner, serve with fried rice or vegetables.
Ingredients:
4 Boneless Skinless Chicken Breasts (cut into bite-size pieces)
3 large Eggs
1/3 cup Flour
1/3 cup Cornstarch
Salt
Oil (for frying)
Sesame Sauce:
1/2 cup Honey
3 Tablespoons Rice Vinegar
2 Tablespoons Dark Brown Sugar (or golden brown sugar)
1/4 cup Soy Sauce
1/4 cup Ketchup
1/2 to 1 teaspoon Red Chili Flakes
1/4 teaspoon Garlic Powder
1/4 teaspoon Ginger Powder
2 teaspoons Cornstarch
Garnish:
3 Tablespoons Sesame Seeds
Green Onions (green parts sliced)
Rice