Easy Bananas Foster French Toast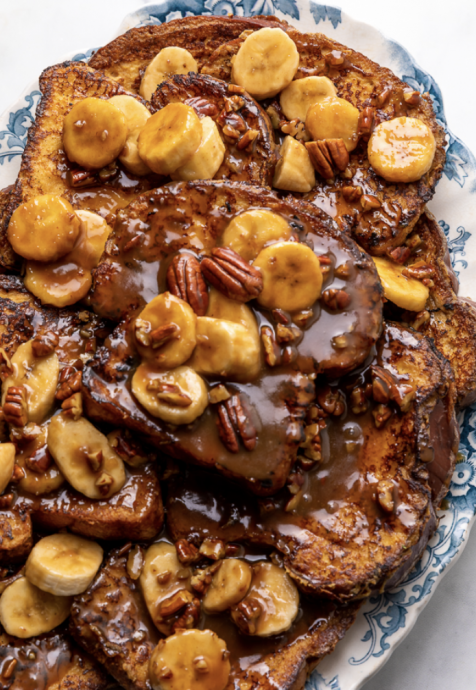 This Easy Bananas Foster French Toast is one of our favorite breakfast recipes! Crispy slices of buttery brioche are topped with a delicious homemade bananas foster sauce made from dark rum, butter, brown sugar, heavy cream, and crunchy pecans. Delicious on it's on, but devilishly good with whipped cream or vanilla ice cream!
And this Bananas Foster version is one of the best things I've ever eaten! Just one bite transported me back to New Orleans, where I first experienced the joy of bananas foster!
The toast itself? It's tender and buttery, yet crunchy, crispy, and almost caramelized at the edges. And the banana topping? Oh my gosh… it's to-die-for flavorful! Between the almost caramelized bananas, crunchy pecans, and buttery RUM flavor, I may never go back to putting maple syrup on my French toast again.
Ingredients:
For the French Toast:
1/2 cup (113 grams) unsalted butter
4 large eggs, plus 3 egg yolks
1/2 teaspoon ground cinnamon
1/4 teaspoon ground nutmeg
3 and 1/2 tablespoons (44 grams) granulated sugar
1 Tablespoon (14 grams) dark brown sugar, packed
1/3 cup (76 grams) milk
1/3 cup (78 grams) heavy cream
2 teaspoons vanilla extract
1 Tablespoon (14 grams) dark rum
8 slices brioche, cut about 3/4" thick
For the Bananas Foster Topping:
1/2 cup (113 grams) unsalted butter
3/4 cup (142 grams) dark brown sugar, packed
1/4 teaspoon ground cinnamon
1/2 cup (113 grams) heavy cream
1/4 teaspoon salt
1 cup (110 grams) pecans, roughly chopped or whole
2 large firm bananas, peeled and sliced
2 teaspoons vanilla extract
2 and 1/2 Tablespoon (35 grams) dark rum