Lemon Pepper Wings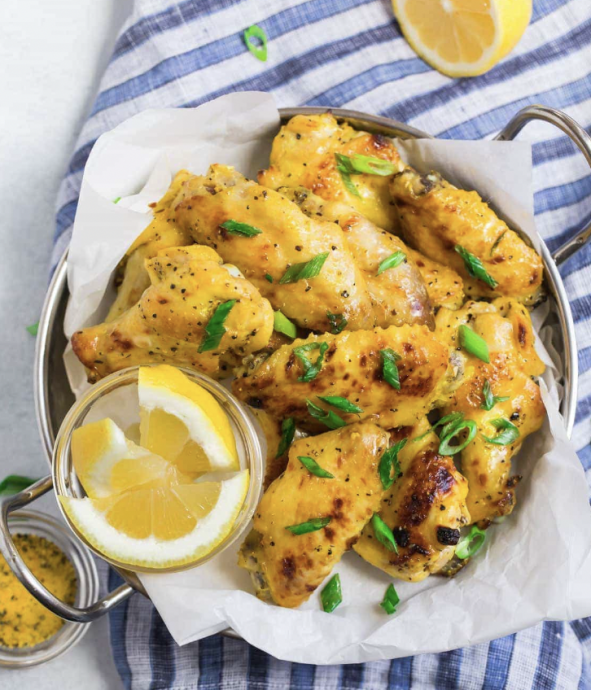 Chicken wings have a wonderful way of making any occasion feel like a party. Today's easy oven baked Lemon Pepper Wings have all the finger-licking fun you love!
These chicken wings are crisp on the outside and juicy on the inside. The moment they hit your table, everyone in the room is guaranteed a good time.
You have three basic options to cook chicken wings at home: deep fry, bake, or grill.
Deep Fry. This is how most restaurants cook their wings. Honestly, I think it is a mess to do yourself (the vat of leftover oil! the splatters!), and you can get excellent results without deep frying.
Air Fryer. I have not yet experimented with air fryer lemon pepper wings, but think this would work well. My best suggestion is to prep the wings as directed, then place them in a single layer in an air fryer basket. Cook at 400 degrees F for about 8 minutes per side. Make sure you spray the basket with nonstick spray before adding the wings. Remove the wings, and add the honey mixture. Cook for another 2-3 minutes. Finish with the lemon pepper sauce.
Grill. I haven't tried making grilled lemon pepper wings yet but think it could be a worthwhile experiment! It would still be tidy and reasonably healthy, and the grill will give you a nice crispy skin too.
Bake. They're EASY, delicious, and what we're doing for this wings recipe. You'll be so pleased with the results, especially once you've tossed the wings in a dynamite lemon pepper wing sauce.
Ingredients:
2 pounds chicken wings
2 tablespoons canola oil
1 tablespoon honey
3 1/2 teaspoons lemon pepper seasoning divided
2 tablespoons unsalted butter
2 tablespoons freshly squeezed lemon juice plus additional lemon wedges for serving
1/4 teaspoon ground black pepper
Chopped green onion for garnish