Apple Turnovers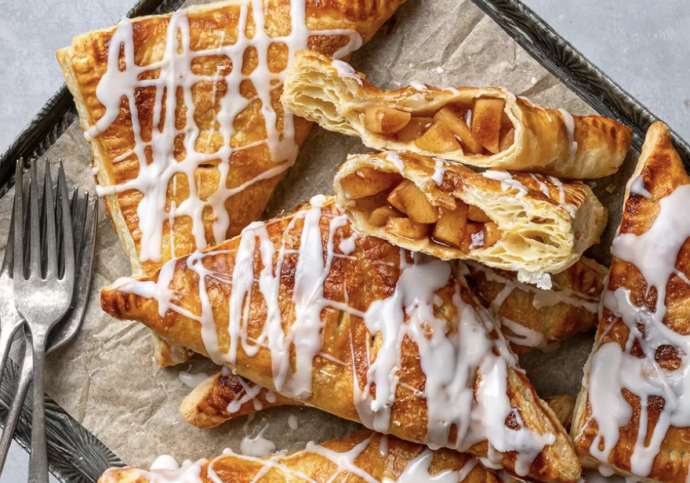 An apple turnover a day keeps the blues away? It's hard to argue with that. The OG of turnovers came from, no surprise here, France. According to lore, in 1630 an epidemic had taken over in the North-West region of France, and the Chatelaine, or lady of the town, handed out flour, butter, and apples to the entire village to raise their spirits. And thus, the chausson aux pommes was born. Meaning apple slipper in French, it was named so for its resemblance to a modern-day Croc. It wasn't until the mid-1800s that Americans started to make these flaky handheld pies in the shape of a triangle.
The apple turnover we know is usually made with puff pastry, which gives this portable pocket of gooey apple goodness its signature puffy, flaky, and buttery crust and sets it apart from plain old apple pie. Another main difference is the filling, which is almost always a compote, meaning the apples are diced and cooked in butter and sugar, then cooled before filling. These turnovers are so easy to make and can be pre-assembled and kept frozen and baked fresh for a Sunday morning treat.
Though apples make the most classic sweet turnover, feel free to make a filling using whatever local fruits you have in season.
Ingredients
4 large Golden Delicious apples, about 2 pounds
3 tablespoons unsalted butter
1/4 cup lightly packed dark brown sugar
3 tablespoons granulated sugar
1 1/2 tablespoons fresh lemon juice
1 teaspoon ground cinnamon
1/4 teaspoon fine salt
1 package (2 sheets) frozen puff pastry, thawed in fridge the night before
For the Egg Wash:
1 large egg
1 large egg yolk
2 teaspoons milk
1 pinch fine salt
3 tablespoons granulated sugar, for dusting
For the Glaze:
3/4 cup confectioners' sugar
1 tablespoon milk