Vegan Chicken Nuggets (Crispy & Crunchy)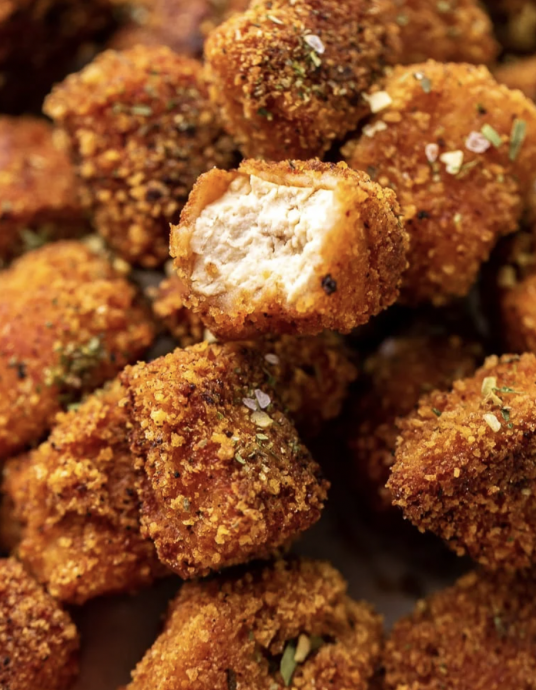 Prepare to be blown away by these Crispy and Crunchy Vegan Chicken Nuggets aka Tofu Nuggets, that are my vegan version to popcorn chicken! They're so flavourful on the inside with the best texture thanks to some key tips and marinating the tofu. They're bound to be a part of your meal prep rotation – I made them three times in one week!
Stop what you're doing and go marinate this tofu NOW. Friends, these Vegan Chicken Nuggets definitely make my top 10 favourite recipes I've made all year. The funny thing is, they were never originally on my recipe list for December. I had another recipe that I wasn't feeling inspired anymore to make, so decided I would try a tofu recipe instead. One thing led to another and I thought – oh, Vegan Chicken Nuggets!
Ingredients:
1 lb block tofu, pressed and drained of liquid
MARINADE
¼ cup light soy sauce + 1 tablespoon, or liquid aminos or tamari (any is fine)
½ cup filtered water
1 teaspoon garlic powder
1 teaspoon onion powder
1 teaspoon smoked paprika
1 tablespoon nutritional yeast, if you don't have this, that's okay
BATTER
¾ cup any nut milk, or ANY vegan milk (I used unsweetened almond milk)
1 ½ teaspoons apple cider vinegar, or regular vinegar
1 cup gluten free flour, or regular flour (I used Bob's Red Mill's Gluten Free All Purpose Baking Flour)
CRUMB MIXTURE
1 ¼ cup gluten free breadcrumbs, or regular breadcrumbs (I used Nature's Path Organic Crispy Rice Cereal and pulsed them in my food processor until they resembled panko breadcrumbs)
3 teaspoons smoked paprika
3 teaspoons nutritional yeast
1 teaspoon garlic powder
1 teaspoon onion powder
1 teaspoon Italian seasoning
1 teaspoon sea salt
¼ cup of oil