Thanksgiving Egg Rolls With Sweet-and-Sour Cranberry Sauce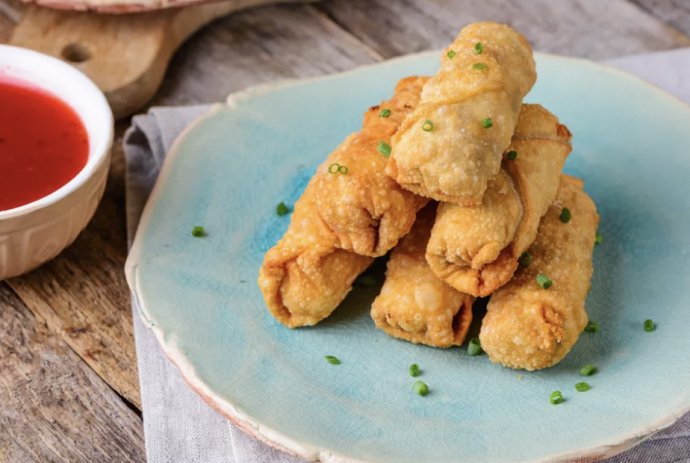 Looking for a new and exciting way to eat your Thanksgiving leftovers? These Thanksgiving egg rolls are the perfect twist for repurposing those traditional leftover staples. Let's be honest, who can resist an egg roll, especially when it's stuffed with creamy brie, roasted turkey, and savory stuffing?
The best part about these egg rolls: the sweet-and-sour cranberry sauce! Made from leftover cranberry jelly, the sauce provides a bit of tanginess and tartness that will make these egg rolls pop with flavor.
Being fried doesn't hurt the flavor either! Just make sure to have a candy thermometer on hand to monitor the oil temperature. This will help to make frying these egg rolls a breeze and aid in making sure that the inside is cooked all the way through. As always, use all of the proper precautions with regard to food safety when preparing new dishes with your Thanksgiving leftovers.
Even better, these egg rolls can also be frozen and baked to reheat when you are in the mood for some Thanksgiving flavor.
Ingredients
For the Egg Rolls:
1 cup finely chopped leftover turkey breast, or thigh meat
1 cup leftover stuffing
8 ounces brie cheese
1 large egg
1 tablespoon water
15 eggroll wrappers
Oil, for frying
For the Sauce:
1/2 cup cranberry jelly
2 tablespoons rice wine vinegar
2 tablespoons water