Peanut Butter Banana Dessert Pizza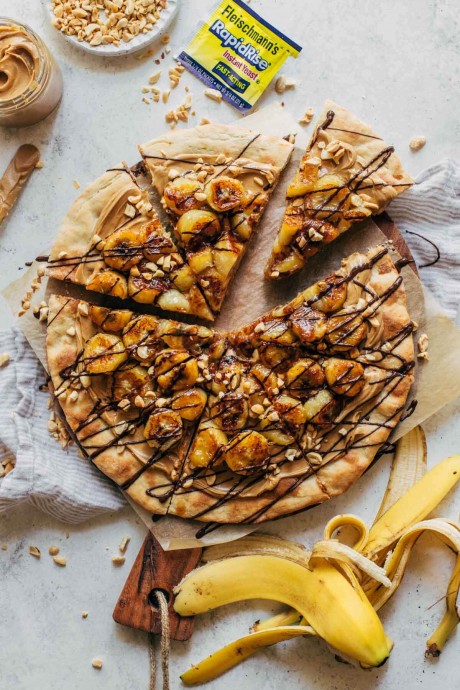 The reason why I love this recipe is because the pizza crust is so easy to make, and it goes with just about everything! Whether you want something savory or sweet, it's the perfect blank slate for any topping. This soft and pillowy crust is topped with creamy peanut butter, caramelized bananas, and a drizzle of dark chocolate.
It's also well worth it to bake your own pizza crust from scratch. Not only is it incredibly easy to make, but the outcome is way better than anything store bought. It's more tender, fluffier, and much more flavorful. You can opt to top this pizza with plain banana slices, but caramelizing them takes the flavor to the next level. The process of caramelizing bananas is really simple. Once the pizza has cooled, it's topped with a layer of creamy peanut butter. You can use crunchy, natural, chocolate, or any type of peanut butter you like. I chose to use classic creamy to stay true to how my grandpa made my sandwiches. The chocolate drizzle is optional, but it adds so much dimension to both the look and taste of this pizza. Without the chocolate, this is a tasty snack that's low in sugar and butter. But with the chocolate, it adds that dessert element to take this pizza over the top. This recipe is very easy to make completely vegan.
Ingredients:
2 – 2 1/4 cups all purpose flour
1 envelope Yeast
1 1/2 tsp granulated sugar
1/2 tsp salt
2/3 cup warm water
3 tbsp oil
4 yellow bananas, cut into 1/2 inch slices
2 tbsp unsalted butter, or plant-based butter
1/4 cup honey
1 heaping cup creamy peanut butter
1/4 cup chopped peanuts
1/4 cup dark chocolate
1 tsp oil