Keto Brown Butter Pumpkin Bread (Nut Free, Low Carb)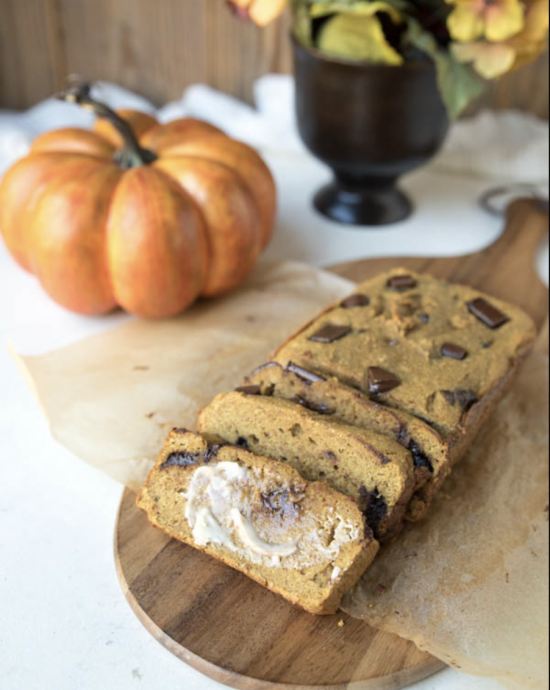 This Delicious Keto Low Carb, Nut Free, Brown Butter Pumpkin Bread is the perfect fall bread for the fall season to enjoy with your coffee or tea! Ideal if you're on a ketogenic diet with just 3 grams of net carbs. It's also almond flour free, and gluten free!
When you have a fantastic keto bread that everyone loves, it's pretty easy to create other fabulous breads from that base. I knew I could adapt my bread to become a pumpkin bread, but decided on a little twist. The browned butter combined with pumpkin pie spice makes this bread explode with pumpkin flavor and is over the top amazing!
Keeping it with my traditional coconut flour bread recipe, this Keto Brown Butter Pumpkin Bread is also simple to make, no difficult or hard to find ingredients and also nut free, gluten free, sugar free, and grain free!
If you're on a low carb diet for weight loss, this keto bread can be included without causing sugar and carb cravings and raising your blood sugar having 7 total grams of carbs and 4 grams of fiber.
Ingredients:
¼ cup unsalted butter or use coconut oil for dairy free
½ cup canned pumpkin puree
¾ cup coconut flour or 80 grams
¼ cup ground flaxseed or 25 grams
1 tablespoon baking powder
¼ teaspoon salt
1 teaspoon xanthan gum
¼ cup Swerve brown sugar sub packed, or 50 grams
⅓ cup unsweetened almond milk or use coconut milk for nut free
2.5 teaspoon pumpkin pie spice
1 teaspoon pumpkin liquid stevia or vanilla stevia
1 teaspoon vanilla extract
½ teaspoon maple extract
5 large eggs
optional topping: sugar free chocolate chips