Shrimp Scampi Stuffed Shells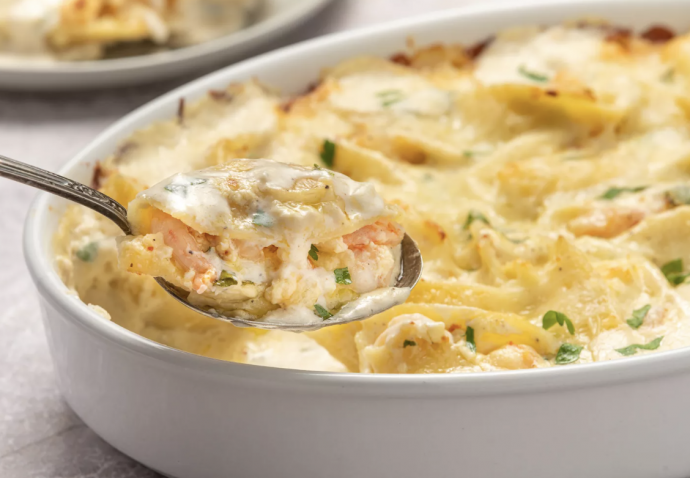 This casserole has everything you love about garlicky scampi in the form of a creamy shellfish dish. Prepare classic scampi first, but with chopped shrimp for easy stuffing into cooked jumbo pasta shells.
Traditional scampi can be made your own with butter, onions, garlic, red bell pepper flakes, shrimp, white wine and lemon juice. If you prefer to prepare the scampi without white wine, you can either use the same amount of chicken broth or increase the amount of lemon in the dish.
This scampi dish is then mixed with cheese to make the filling for the stuffed shells. A white sauce is poured over the mussels and they are baked until they are golden and bubbly. A delicious dish that the whole family will ask for again and again!
Ingredients:
Shells and Shrimp Scampi Filling:
20 jumbo pasta shells
2 tablespoons olive oil
2 tablespoons salted butter
1/2 cup minced onion
3 minced garlic cloves
1/2 teaspoon crushed red pepper flakes
1 pound peeled, deveined and chopped shrimp
1/4 cup white wine
2 teaspoons freshly-squeezed lemon juice
1/2 teaspoon salt
1/2 teaspoon ground black pepper
8 ounces room temperature cream cheese
1 cup whole milk ricotta
1/2 cup grated parmesan
1 tablespoon chopped fresh parsley
1 large egg
3/4 cup shredded mozzarella cheese
Sauce:
4 tablespoons salted butter
2 tablespoons all purpose flour
2 1/2 cups half and half
1 tablespoon minced fresh parsley
2 clove minced cloves garlic
1/4 teaspoon salt
1/4 teaspoon ground black pepper