Baked Lemon Blueberry Oatmeal Breakfast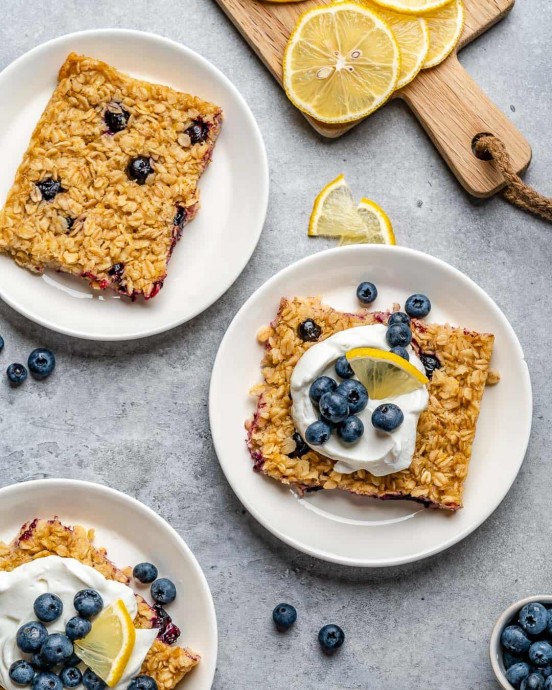 This scrumptious baked lemon blueberry oatmeal is perfect for breakfast or brunch! Sweet, zesty, hearty, and with a wonderful texture, this is a great meal to whip up for the week ahead.
You are going to love this baked blueberry oatmeal recipe, it's so good! Tangy sweet blueberries complement zingy lemon for a wonderful flavor profile, perfect to kick off the day! Wrap them all up with honey-covered oats and you've got yourself an addictive breakfast recipe, you can make a big batch, it's perfect for guests too.
You'll love this baked oatmeal breakfast recipe! First, flavor! Blueberries and lemons make such a great combination. Tangy lemon zest and tart/sweet blueberries come together for a mouthwatering mix of flavors. Second, it's a crunchy chewy oatmeal. Old fashioned oats are mixed with honey for a sweet, moist, and satisfyingly chewy bite. So filling and the perfect way to jumpstart your morning. And it is an easy oatmeal recipe. Simple to prep, this goes from pantry to table in 25 mins, great for meal prep and enjoy for a few days without having to worry about what to make for breakfast.
Baked oatmeal is great to make ahead of time. You can store in an airtight container in the fridge for 4-6 days. If you are meal prepping, separate out portions into smaller containers or ziplock bags, so they're ready for you to grab and go. You can put a portion in the microwave for a few seconds to heat it up.
Ingredients:
2 cups rolled old-fashioned oats
1/2 cup honey
1 teaspoon baking powder
1/2 teaspoon kosher salt
1 1/2 cups almond or coconut milk
1 large egg
1 Tablespoon coconut oil melted
zest and juice of 1 1/2 large lemons
2/3 tbsp pure vanilla extract
1 cup fresh blueberries divided
OPTIONAL: Serve with plain yogurt and fresh berries