15-Minute Mediterranean Pasta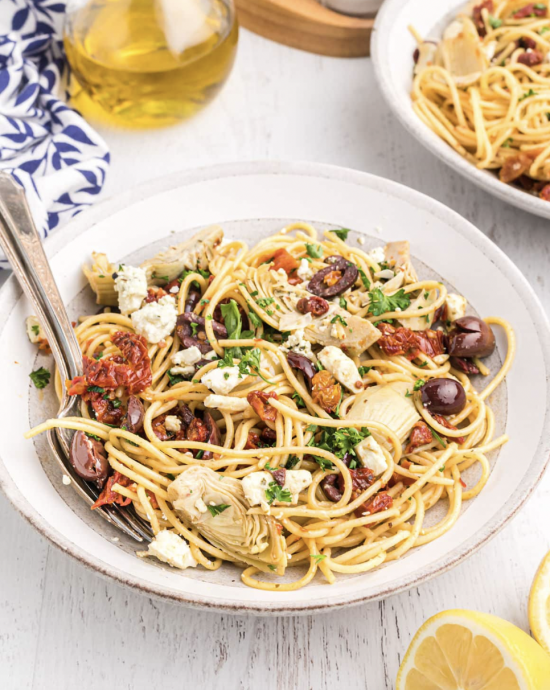 Today it's all about quick and easy! As in, open some jars, boil some pasta, and stir it all together – seriously, it doesn't get any easier than this 15-minute Mediterranean pasta with olives, artichoke hearts, sun-dried tomatoes, and feta.
Today we're using some simple pantry ingredients and taking 15 minutes (!) to make a pasta dinner loaded with flavor and so easy you'll want it in your pocket for those times when there's just no time to cook. Or, as is the case during the summer, you don't want to cook (guilty as charged). In the time it takes to boil the pasta, the whole thing comes together in a delicious tangle of spaghetti with sun-dried tomatoes, marinated artichoke hearts, Kalamata olives, and feta cheese. The sauce is practically a "no sauce" pasta sauce – just a light lemony garlic olive oil that coats the pasta and ties all the flavors together.
It's an easy pasta dish, friends, but don't let its simplicity fool you. We might be using pantry ingredients, but this Mediterranean pasta recipe is bursting with fresh flavors.
Ingredients:
8 ounces spaghetti
1 garlic clove, smashed
1/4 cup olive oil
Juice from 1/2 a lemon
1/3 cup halved Kalamata olives
1/2 cup roughly chopped sun-dried tomatoes (packed in oil)
1 (10-ounce) jar artichoke hearts, drained and quartered (use the kind marinated in herbs)
2 tablespoons chopped fresh parsley
1/2 teaspoon kosher salt
1 cup crumbled feta cheese