Vanilla Waffles With Nut Nougat & Cherry + Tips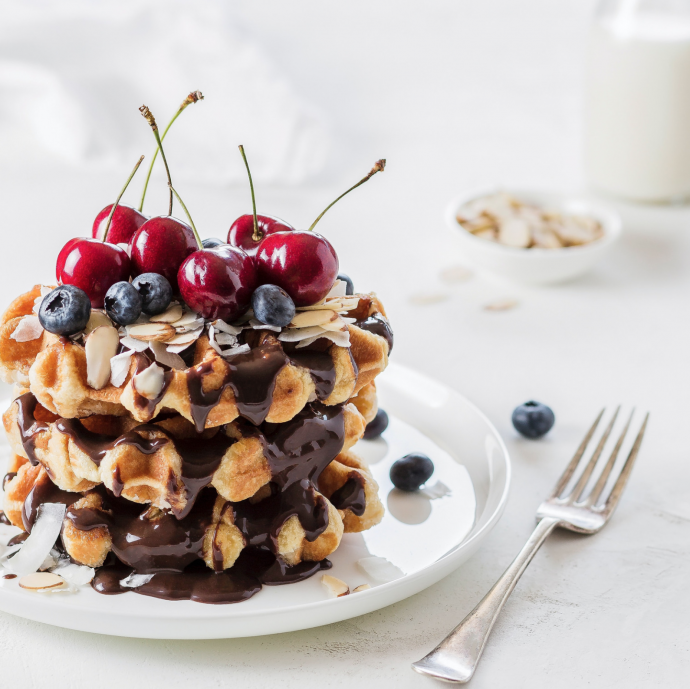 Photo by Dani Rendina on Unsplash
Quick to prepare and unbelievably versatile: waffles are always popular and provide a tasty snack as a dessert, a main course, with a cup of coffee or at any time in between. Just combine flour, eggs and milk and add other tasty ingredients and sweet or savory fillings to produce quick, appetizing and mouth-watering delicacies.
Although the ingredients in themselves are simple, there are a few things to remember when baking perfect and delicious waffles. If not otherwise indicated, always use the pastry flour. You can also use other types of flour such as whole-grain flour, but you will then need extra liquid and a longer soaking time. Use unskimmed milk with 3.5 % fat content to ensure a smooth batter. You can also substitute carbonated mineral water for part of the milk. Adding melted butter to the batter is a good idea, as it makes waffles light and crisp. However, it is better to use clarified butter or if you prefer a neutral plant oil (rapeseed or sunflower oil) for baking, because butter burns quickly at high temperatures.
Tips for perfect waffles:
1. You will need a waffle iron for baking waffles. There are different sorts and shapes of waffle irons for making heart-shaped waffles, Brussels waffles and waffle cones. These appliances normally have a non-stick surface to enable the baked waffles to be very easily removed.
2. To avoid scratching the non-stick surface, you should always use a wooden or heat-resistant spatula made from synthetic material. Never use sharp objects.
3. Waffles taste especially delicious when prepared with softened butter. For a moist texture, simply add a little cooking oil such as sunflower oil.
4. To produce particularly fine-pored waffles, replace part of the flour with cornflour.
5. Before use, wipe the waffle iron with a dry cloth and add a little coating of oil before heating. The waffle iron should be heated to its full cooking temperature before you start to bake the waffles. Please also first read the operating instructions for your waffle iron.
6. The cooked waffles should be golden-brown on both sides. If crumbs are left in the waffle iron, these must be removed before baking the next waffle to avoid the development of unattractive black spots. Crumbs can best be removed with a soft basting brush which does not damage the coating of the waffle iron.
7. Lay the waffles singly on a cooling rack or grill to allow air to the undersides of the waffles. If you pile them on top of one another, they will become flabby and over-moist.
In case you do not have enough time to shop for special ingredients, simply use fillings you already have at home.
And here I would like to share one of my favorite combination: nut nougat (almost homemade Nutella) and cherry. Try to cook them, and I'm sure these waffles become your new favorite!
Ingredients
For the waffles
125 g butter
25 g sugar
1 sachet vanilla sugar
3 eggs
1 vanilla pod
250 g plain wheat flour
½ sachet baking powder
250 ml milk
For the filling
100 g hazelnut kernels
150 g nougat
75 g ready-made icing (whole milk)
Directions:
Step 1
Put the butter in a mixing bowl and beat until smooth. Add sugar and vanilla sugar. Continue to beat until a uniform texture has formed. Gradually fold in the eggs. Cut the vanilla pod lengthwise and scrape the pulp into the batter. Mix the flour and baking powder and add to the batter alternately with the milk.
Step 2
Put 2–3 tablespoons of batter for each waffle into a well-heated and greased waffle iron and spread flat. Bake the waffles until golden brown. Place on a cake rack and leave to cool.
Step 3
For the nut nougat, chop the hazelnut kernels and roast until golden in a frying pan. Take out of pan and leave to cool.
Step 4
Melt nougat and ready-made icing in a small bowl in a bain-marie on a low heat. Mix in the roasted hazelnuts.
Step 5
Cut the waffles in half. Spread one half with the chocolate-hazelnut spread, lay the other half on top and press together. Serve immediately with cherries. Decorate with roasted almond flakes. Bon Appétit!