Salted Butterscotch Panna Cotta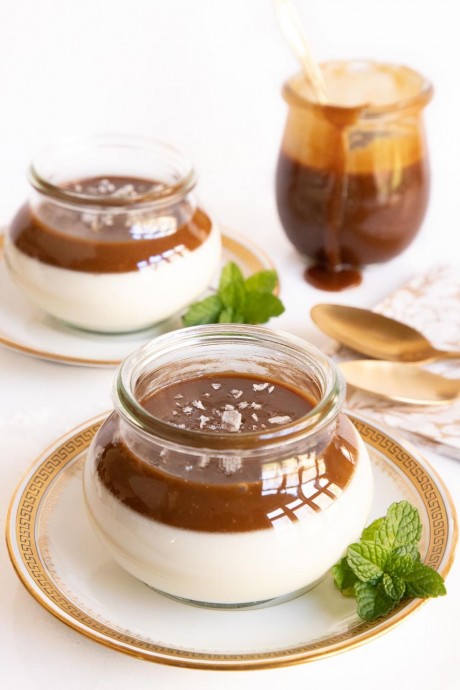 Although this silky-smooth, crazy-delicious Salted Butterscotch Panna Cotta has a fancy name and beautiful presentation, it may go down in history as one of the easiest desserts you'll ever make! Just because something looks and sounds fancy and has an elegant Italian name doesn't mean it's difficult to make and/or will take hours in the kitchen! This Salted Butterscotch Panna Cotta is the perfect example. The panna cotta itself is made from four simple ingredients and will take less than 10 minutes of hands-on time. The butterscotch sauce is one of our ridiculously easy recipes (and ridiculously delicious) and the "salted" part simply involves sprinkling a little flaky sea salt over the top before serving.
If you're not familiar with panna cotta, it's a wonderful Italian dessert that's made of sweetened cream that is thickened with unflavored gelatin. The English translation for panna cotta is "cooked cream" which doesn't sound particularly intriguing but, believe me, panna cotta is a fabulous dessert that everyone seems to love. And this Salted Butterscotch Pana Cotta is particularly delicious!
Ingredients:
For the panna cotta:
1 cup milk I use whole milk
2½ teaspoons unflavored gelatin (1 packet of Knox)
1 vanilla bean pod or 1 teaspoon vanilla extract
2 cups heavy cream
6 tablespoons sugar
⅛ teaspoon kosher salt
For the topping:
Ridiculously Easy Butterscotch Sauce
flaky sea salt