Festive Baked Salmon: Easy & Make-ahead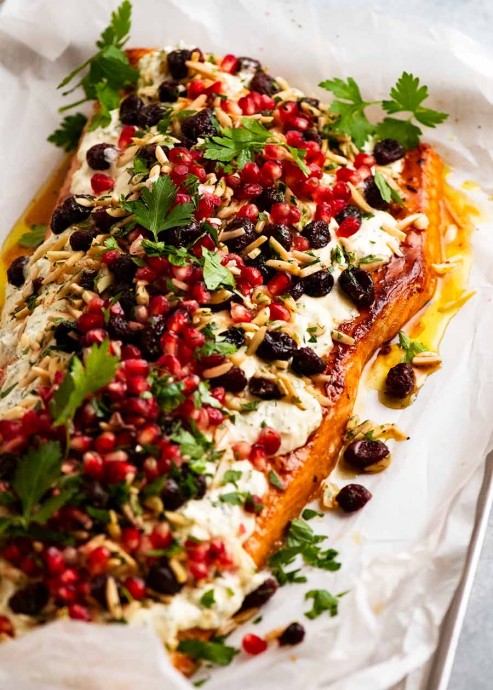 Your Christmas main dish for this year has just landed!! Have you ever seen a Baked Salmon look so festive?? And it's so EASY! Featuring a honey butter-glazed side of salmon baked in foil, slathered with creamy dill sauce and finally topped with a Holiday "Tapenade", this dish pays extremely high dividends for minimal effort. It is: Baked with a Honey Garlic Butter Glaze in foil; Slathered with a Creamy Dill Sauce; Topped with a Holiday "Tapenade" of dried cranberries, almonds and parsley; and Finished with pomegranate for a shower of festive color and a generous dousing of fresh lemon juice.
The sour cream-based sauce provides an element of creamy richness to the baked salmon as well as acting as the "glue" for the Holiday "Tapenade" we pile over the top. Not including dill was never an option – it is, after all, best friends with salmon! The flavor and textural combination is stellar! It's mostly savory with hints of sweet, and that creamy dill sauce is a natural pairing with salmon. Finally the Holiday Tapenade topping just sings of festivities! Present the salmon whole on a platter, like pictured above, so everyone can admire how pretty it looks.
Ingredients:
SALMON:
1.2 – 1.5 kg / 2.4 – 3lb salmon side
2 1/4 tsp salt , cooking/kosher
1 tsp black pepper
HONEY BUTTER GLAZE:
150g / 5oz butter , unsalted
1/2 cup honey
3 garlic cloves , finely minced
CREAMY DILL SAUCE:
1 1/2 cups sour cream , full fat (low fat is too watery)
1/2 cup fresh dill , finely chopped (lightly packed cup)
1/2 eschallot (French onion) , finely grated
1 1/2 tbsp lemon zest
1/2 tsp salt , cooking/kosher
HOLIDAY "TAPENADE":
1 cup dried cranberries
1 cup orange juice
1 cup slivered almonds , toasted
1/3 cup parsley , roughly chopped
1/4 tsp each salt and pepper
1 tbsp extra virgin olive oil
1 pomegranate , only the seeds
1/4 cup parsley , roughly chopped
3 tbsp lemon juice
2 lemons, extra , cut in 6 pieces each