Chicken Alfredo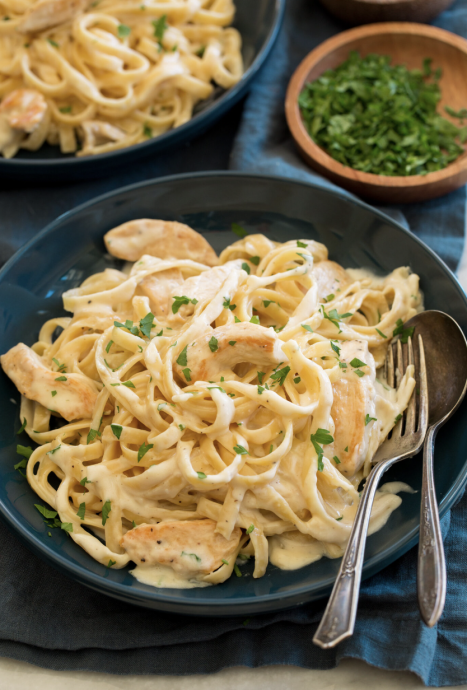 Such a rich and satisfying Chicken Alfredo recipe! It's a hearty dish made with fettuccine pasta, a creamy parmesan white sauce, and garlicky pan seared chicken.
Something about the colder seasons makes us ready for all the cozy meals. Bring on the pastas, casseroles, and all the carby goodness. We all need a good splurge meal sometimes.
This classic chicken alfredo is just that. It's a family friendly recipe that has stood the test of time.
It's such a loved dish because of it's rich cream and butter based sauce and all that flavorful parmesan to make it so crave-able. And the addition of browned chicken adds another layer of flavor and texture to it.
Ingredients:
1 Tbs olive oil
1 1/4 lbs boneless skinless chicken breasts
Salt and black pepper
1 Tbsp minced garlic
1 3/4 cups heavy cream
10 cups water
4 Tbsp butter, cut into 1-Tbsp pieces
12 oz dry fettuccine pasta
4 oz finely shredded parmesan cheese (1 1/2 cups)
For serving (optional)
Fresh lemon zest, or fresh grated nutmeg, parsley, red pepper flakes