Love Real Food Tangy Lentil Salad with Dill & Pepperoncini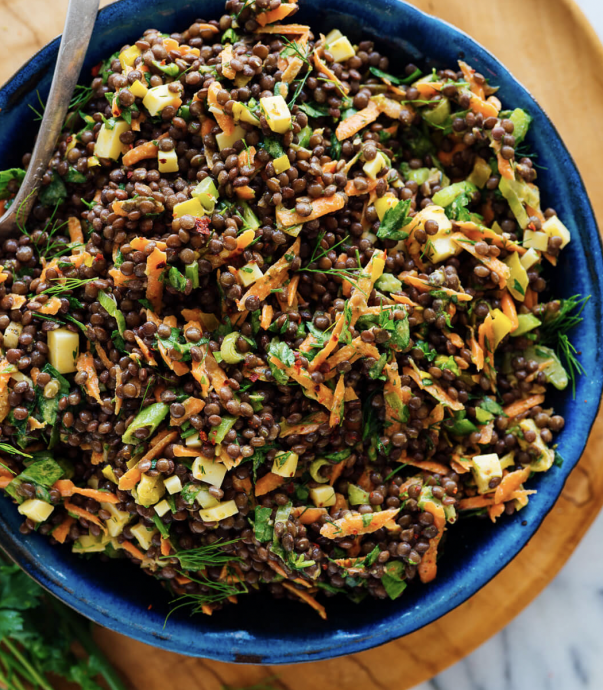 Some of my recipes start off with a strong concept or challenge, while others are designed to satisfy a craving. This lentil salad falls into the latter camp. It's exactly what I've been craving lately.
This salad is tangy, crisp-tender, a little spicy, and quite satisfying. The earthy lentils and carrots ground the more bold flavors, so they're not too overwhelming.
Ingredients
Salad
1 ½ cups black beluga lentils
1 bay leaf
½ teaspoon fine sea salt
2 cups grated carrots (about ¾ pound or 5 to 6 medium carrots, peeled and grated on the large holes of a box grater or in a food processor fitted with a grating attachment)
¾ cup fresh flat-leaf parsley
¼ cup (⅓ ounce) fresh dill leaves, tough stems removed, torn into small pieces
½ cup chopped celery (about 2 ribs)
½ cup thinly sliced green onion
½ cup chopped pickled pepperoncini pepper
Optional cheese: ½ cup tiny cubes of havarti, havarti dill, mild cheddar, or crumbled feta
Tahini-dill dressing
⅓ cup extra-virgin olive oil
¼ cup lemon juice
¼ cup (⅓ ounce) fresh dill leaves, tough stems removed
2 tablespoons tahini
1 clove garlic, roughly chopped
½ teaspoon fine sea salt, to taste
½ teaspoon red pepper flakes (scale back or omit if sensitive to spice), to taste
Freshly ground black pepper, to taste