Lasagna Soup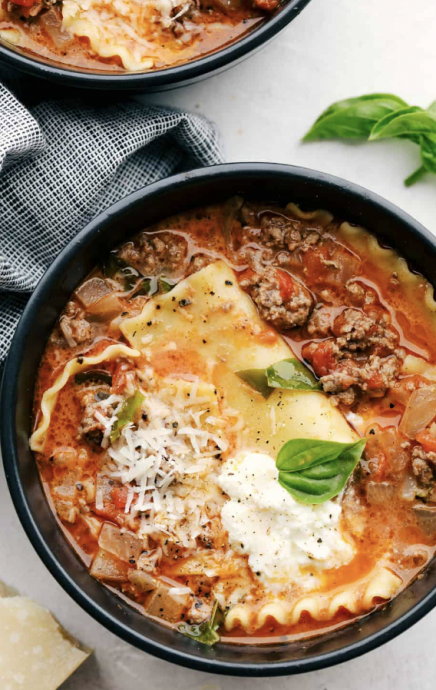 All of the goodness of lasagna is packed into this hearty and delicious soup! Filled with noodles, ground beef, marinara and cheese, this is a soup that your family will love!
Lasagna is always a huge hit at my house! So when I made the soup version of it, my kids went crazy! This soup is packed with all of the goodness of lasagna. Tender noodles, savory meat, flavor-packed broth, and gooey cheese. It is divine! Both soup and lasagna are classic comfort foods, and I've combined them into the ultimate mega comfort dish, lasagna soup!
Lasagna soup has a delightful creamines to it in addition to that classic lasagna flavor. Your family will love this twist on the classic, plus it's super simple and easy to make. And… one of the best parts about Italian food, in general, is it tastes even better the second day after all the flavors meld together. It's a perfect homemade meal.
Ingredients:
8 ounces lasagna noodles broken into pieces (about 10 noodles)
1 tablespoon extra-virgin olive oil plus more for drizzling
1 onion chopped
1 pound ground beef or sausage
3 cloves garlic chopped
1 teaspoon dried oregano
2 tablespoons tomato paste
4 cups low-sodium chicken broth
(1) 15 ounce can crushed tomatoes
1/2 cup chopped fresh basil plus thinly sliced leaves for topping
1/3 cup grated parmesan cheese plus more for sprinkling, optional
1/4 cup heavy cream or half-and-half
Ricotta cheese for garnish