Thai Panang Curry with Vegetables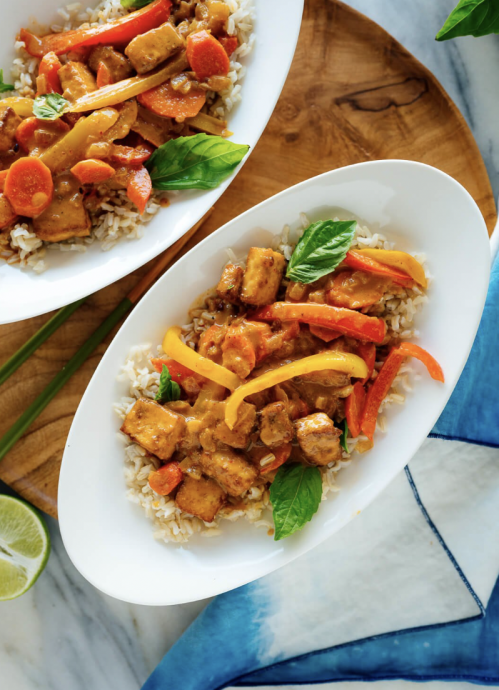 Have you had panang curry yet? Panang curry is rich and creamy, spicy yet balanced, with underlying notes of peanut and coconut.
I make my panang curry with lots of bell peppers and carrots, and optional tofu for extra protein. It's a perfectly satisfying weeknight meal for cold days.
Ingredients:
Optional: 1 batch crispy baked tofu
Optional: 1 ¼ cups brown jasmine rice or long-grain brown rice, rinsed
1 tablespoon coconut oil or olive oil
1 small white or yellow onion, chopped (about 1 cup)
Pinch of salt, more to taste
1 red bell pepper, sliced into thin (¼" wide) strips
1 yellow, orange or green bell pepper, sliced into thin (¼" wide) strips
3 carrots, peeled and sliced on the diagonal into ¼" thick rounds (about 1 cup)
2 cloves garlic, pressed or minced
1 to 2 tablespoons panang curry paste* (use 1 for mild or 2 for spicy)
1 can (14 ounces) regular coconut milk
½ cup water
2 tablespoons peanut butter
1 tablespoon tamari or soy sauce**
1 ½ teaspoons coconut sugar or brown sugar
2 teaspoons fresh lime juice, to taste
Optional garnishes: fresh Thai basil or regular basil, sriracha or chili garlic sauce for extra spice