Salted Caramel Apple Butter Bars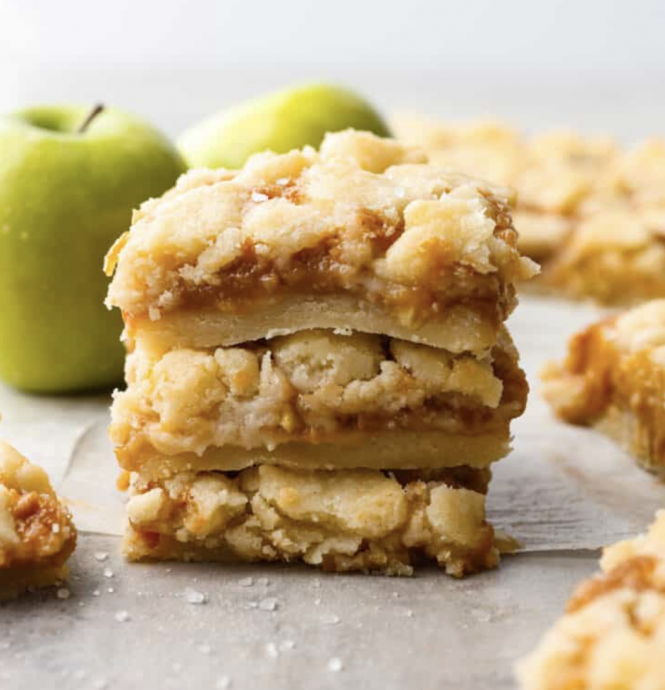 Salted caramel apple bars are ooey-gooey treats that have an amazing buttery shortbread crust and a soft and sweet caramel apple center! This is one of the best desserts you will make this fall!
Fall is the time for apple recipes, and let me tell you, these salted caramel apple bars are so insanely delicious that they are worth every bite. I made this recipe just last week and that tiny square was worth every single calorie! These caramel apple bars are adapted from the Salted Caramel Butter Bars recipe. It's one of my favorites on the website.
They start with a buttery shortbread crust. The center is salted caramel apple and the top is more buttery shortbread goodness. My very favorite part is the tiny hint of saltiness in these bars. Once you combine that sweet and salty taste with some delicious apples, the rest is history! These are sure to be a hit with your family!
Ingredients:
2 cups butter softened
1 cup white sugar
1 and ½ cups powdered sugar
1 Tablespoon vanilla
4 cups flour
2 medium apples chopped (I used Granny Smith)
1 14 ounce bag caramels (unwrapped or 11 oz unwrapped Caramel Bits work great)
⅓ cup whipping cream
½ teaspoon vanilla
2 teaspoons coarse sea salt