Roasted Delicata Squash, Pomegranate and Arugula Salad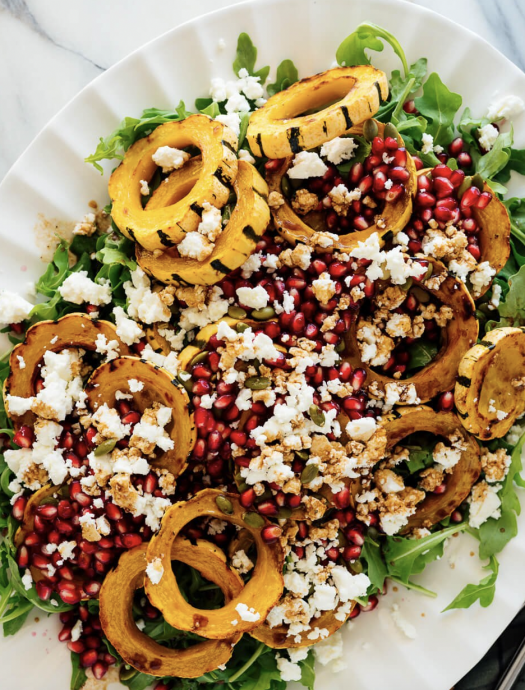 Have you made this salad before, by chance? I pulled this recipe from the archives and updated the photos to catch your eye. This stunner just might steal the show at your Thanksgiving feast, and for good reason. Glittering pomegranate arils and golden squash taste just as good as they look.
Delicata squash is a lovely winter squash. It's unique because its skin is so, well, delicate that you don't need to peel it before roasting. The maple-balsamic dressing, arugula, pomegranate and goat cheese go great with the squash, of course, but also with apples and pears. If your oven is full, try sliced fruit instead, or simply roast the squash the day before.
Ingredients:
Salad
2 medium delicata squash (about 2 pounds total)
1 tablespoon extra virgin olive oil
Pinch of fine salt
5 ounces (about 5 heaping cups) arugula or mixed baby greens
Arils from 1 pomegranate (about 1 cup) or a generous handful of dried cherries or cranberries
⅓ cup raw pepitas (green pumpkin seeds) or chopped pecans
3 to 4 ounces (about ¾ cup) crumbled feta cheese or goat cheese
Maple-balsamic vinaigrette
3 tablespoons extra virgin olive oil
1 ½ tablespoons balsamic vinegar
2 teaspoons maple syrup
1 teaspoon Dijon mustard
¼ teaspoon fine salt
Freshly ground black pepper, to taste