Sesame Chicken Cabbage Crunch Salad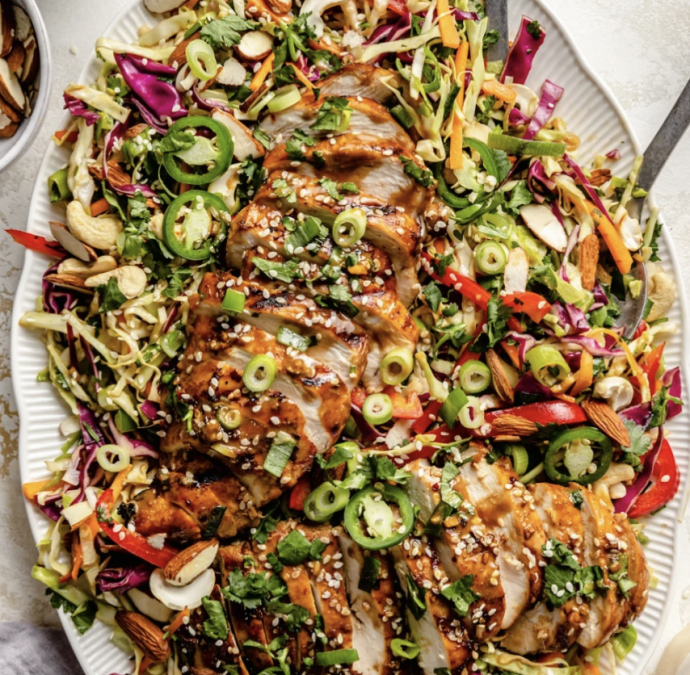 Fresh and delicious sesame chicken salad packed with bright, crunchy vegetables, juicy chicken, and a flavorful sesame ginger dressing. This flavorful sesame chicken salad is easy to customize with your fav veggies and proteins for the perfect healthy lunch or dinner during the week!
This sesame chicken salad is packed with a rainbow of veggies, tossed with my go-to homemade sesame ginger dressing, and topped with that juicy grilled sesame chicken. The team and I had this salad for lunch after perfecting the recipe last month and omg we were OBSESSED with that incredible crunch and all of the wonderful flavors and textures.
It has the perfect amount of sweetness from the dressing and marinade, plus lovely savory elements from the grilled chicken and toasted nuts. Don't forget the kick of heat from jalapeño and the perfect amount of freshness from cilantro and green onion! This salad is so easy to customize with your fav meat and plant-based proteins, so enjoy the perfect hearty lunch or dinner any day of the week.
Ingredients:
For the chicken:
Grilled Sesame Chicken
For the salad:
4 cups shredded green cabbage
2 cups shredded red cabbage
1/2 cup diced green onion
3/4 cup freshly diced cilantro
1 cup shredded carrots (bagged or cut into matchsticks for excellent crunch!)
1 red bell pepper, thinly julienned
1 jalapeno, seeded and diced
For the dressing:
1 batch Sesame Ginger Dressing
For serving:
1/3 cup toasted sliced almonds
1/3 cup roasted cashews halves
Sesame seeds
Extra cilantro
Extra green onion
A few jalapeno slices
Optional: Crispy wonton strips