Pistachio Shortbread Cookies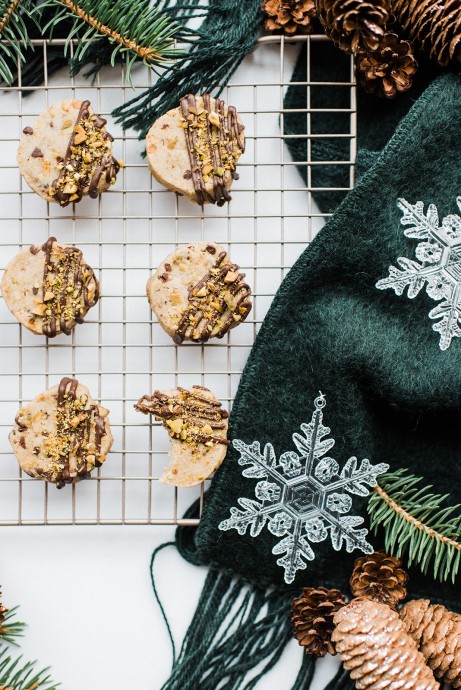 These Pistachio Shortbread Cookies are buttery, nutty, and dipped in rich dark chocolate. A great holiday cookie, shortbread also makes fantastic gifts!
Shortbread cookies are so delicious — not too sweet, buttery, crumbly, and perfect with coffee or tea. But adding nuts and tidbits of rich, dark chocolate make these cookies even more flavorful and provide great texture. Shortbread dough makes a wonderful, versatile blank canvas. Drizzle in chocolate, and you have adorable two-bite cookies that are perfect to give as holiday gifts and a worthy addition to any Christmas cookie tray. And fear not — these Pistachio Shortbread Cookies are easy to make. An ideal slice-and-bake cookie, you don't even need to roll these cookies out or worry about cookie cutters.
These cookies are simple to make and require only seven ingredients: butter, brown sugar, vanilla, flour, salt, pistachios, and chocolate. Here's a few tips to follow for the perfect shortbread cookies: Shortbread cookies pair nicely with some salt. I prefer to use roasted, salted pistachios for this recipe. To get nice clean cuts, chill the cookie dough log and use a sharp serrated knife for slicing. Shortbread cookie dough should look crumbly, but will come together when you press it, much like pie dough. Feel free to use a different type of nut (walnuts or pecans work nicely) or to drizzle on white chocolate instead of dark.
Ingredients:
1 stick unsalted butter, room temperature
1/3 cup brown sugar
1/2 teaspoon vanilla
1 cup flour
1/4 teaspoon salt
1/2 cup finely chopped roasted, salted pistachios
1/4 cup mini semi-sweet chocolate chips