Layered Panzanella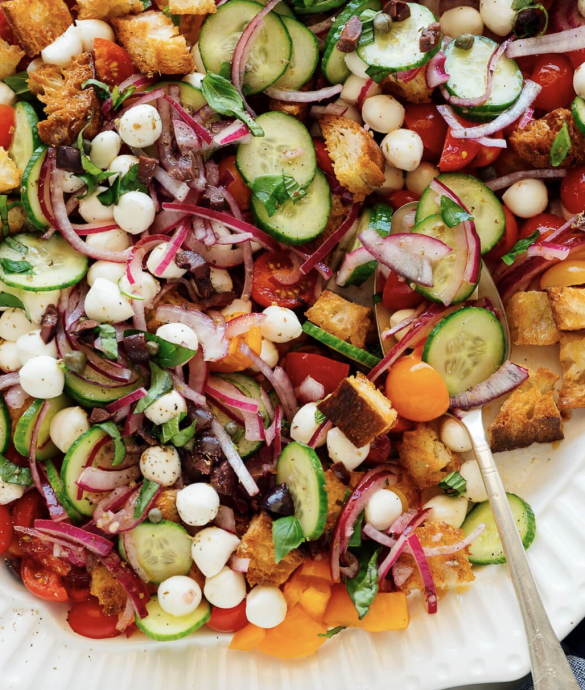 Panzanella! A fun name for a bold summertime salad. Panzanella is Italy's delicious solution for extra tomatoes and stale bread.
This panzanella salad is my take on the classic. It features ripe tomatoes, crisp homemade croutons, fresh cucumber and basil, and mozzarella under a simple, zippy vinaigrette. It's a study in textures and refreshing Italian flavors.
I'm in love with this panzanella salad recipe and think you will be, too. It avoids all of the potential panzanella pitfalls. Some panzanellas are mushy, bland or watery—not this one.
This panzanella salad makes use of small tomatoes, which are less watery and less likely to be mushy. It's composed on a large platter in layers, which is key to its good looks. You decide how long to let the salad rest before serving—the croutons soften up with time, in the best way.
Great tomatoes are absolutely essential, so hurry and make this panzanella while you still can!
Ingredients:
Homemade croutons
4 ounces ciabatta or crusty sourdough bread, preferably stale (¼th of a standard 1-pound loaf or 3 cups cubed)
2 tablespoons extra-virgin olive oil
¼ teaspoon fine sea salt
Vinaigrette
2 tablespoons extra-virgin olive oil
3 tablespoons red wine vinegar
½ teaspoon dried oregano, plus extra for garnish
1 large clove garlic
½ teaspoon fine sea salt
Freshly ground black pepper, to taste
½ small red onion, thinly sliced
Salad
1 pound cherry or grape tomatoes, halved or quartered if large
1 pound additional tomatoes (smaller tomatoes are better), cut into bite-sized pieces
2 mini cucumbers or 1 small cucumber, thinly sliced into rounds
8 ounces fresh mozzarella, optional (buy small mozzarella balls or tear a larger ball into bite-sized pieces)
⅓ cup roughly chopped fresh basil (about ½ ounce)
2 tablespoons (total) thinly sliced Kalamata olives and/or capers