Cranberry Pie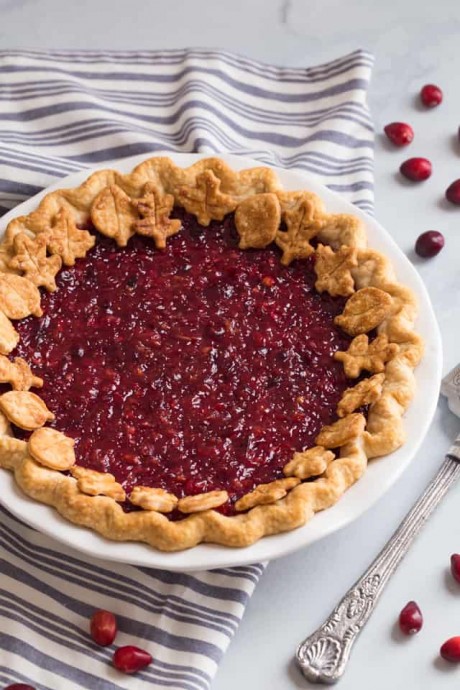 This simple cranberry pie recipe will make an excellent addition to any festive table! This recipe calls for fresh cranberries but frozen can also be used.
The fresh cranberry pie filling is pretty easy to make and it's made completely from scratch. There are a few steps and some wait time but the steps are not hard.The filling needs to be cooked on the stovetop for just a few minutes until it is thickened before it goes in the crust. This is to ensure that it will set up and congeal into a thick, jammy filling.I doubled my pie crust and used the second pastry for pie crust cutouts. I'll leave instructions on how to do that in the recipe notes. You can also choose to top the pie with the second pastry or use it to make a lattice crust. Refer to my apple cranberry pie linked above in the third paragraph for instructions on how to make a lattice crust.
This pie bakes for only 30 minutes. You'll know it's finished baking when the filling is bubbling and the crust is golden brown. If the crust is browning too fast, you can cover the edges with a pie shield or aluminum foil. The pie needs to cool completely before serving. This will take about 4 hours. I like to refrigerate mine overnight once it has cooled but this is totally optional.Save yourself some time by making the pie a day in advance! It refrigerates well. I actually prefer it best if refrigerated overnight.
Ingredients:
1 ½ cups (195 g) all-purpose flour
1 tablespoon granulated sugar
¼ teaspoon salt
3 tablespoons cold shortening, cut into pieces
5 tablespoons cold butter, cut into pieces
5 tablespoon ice water
6 cups (600 g) fresh cranberries, coarsely chopped
2 cups (400 g) granulated sugar
⅓ cup (80 ml) fresh orange juice
¼ cup (32 g) cornstarch
3 tablespoons all-purpose flour
½ teaspoon ground ginger
¼ teaspoon salt
1 tablespoon orange zest
1 tablespoon vanilla extract