Roasted Butternut Squash Tacos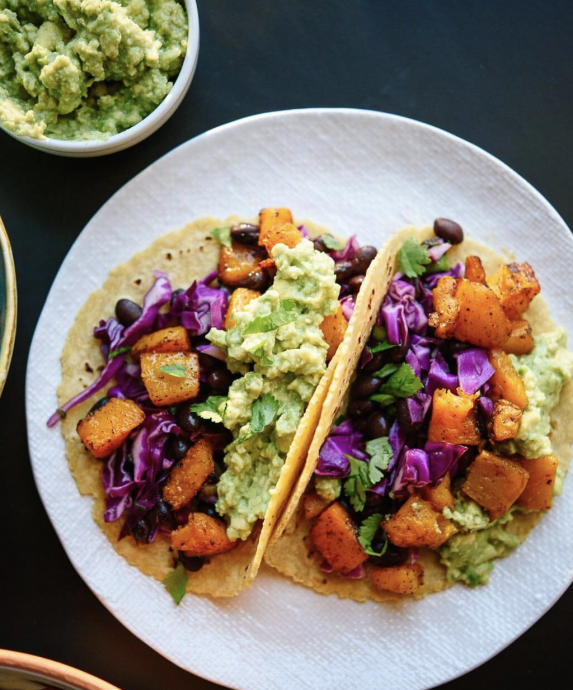 Just when I thought I couldn't come up with another recipe, my wonderful hair stylist said, "Tacos." So here we are, two grocery stores later, with tacos that are as tasty as they are colorful. You need some color to brighten up drab winter days, you know?
For these tacos, I drew inspiration from my sweet potato tacos and roasted up some cubed butternut squash instead (sweet potatoes would be awesome here, too!). I actually cheated, for once, and used two bags of pre-cut squash from Trader Joe's. I think I'll do it again soon.
While the squash roasts in the oven, just mix up some simple cabbage and black bean slaw (a riff on the slaw used in my spaghetti squash burrito bowls) and mash up some guacamole. I have finally learned that mashing guacamole with a pastry cutter or potato masher works way better than a dinky fork. Hallelujah! Hope you love these.
Ingredients:
Roasted butternut squash
1 medium butternut squash (about 2 to 2 ½ pounds, I used two 12-ounce bags of pre-sliced butternut from Trader Joe's), peeled and sliced into ¾-inch cubes
2 tablespoons olive oil
1 teaspoon chili powder
Salt and freshly ground pepper
Cabbage and black bean slaw
2 cups purple cabbage, thinly sliced and roughly chopped into 2-inch long pieces
2 cans black beans (15 ounces each), rinsed and drained, or 3 cups cooked black beans
⅓ cup chopped green onions, both green and white parts
⅓ cup chopped fresh cilantro
2 to 3 tablespoons fresh lime juice, to taste
1 teaspoon olive oil
¼ teaspoon salt, more to taste
Simple guacamole (double if you love guac!)
1 large avocado, diced
1 tablespoon lime juice
¼ teaspoon ground coriander (optional)
Pinch of salt, more to taste
Everything else
8 corn tortillas (certified gluten free if necessary)
Optional garnishes: additional chopped cilantro, hot sauce, toasted pepitas, crumbled feta cheese (omit for vegan tacos)