Mediterranean Chicken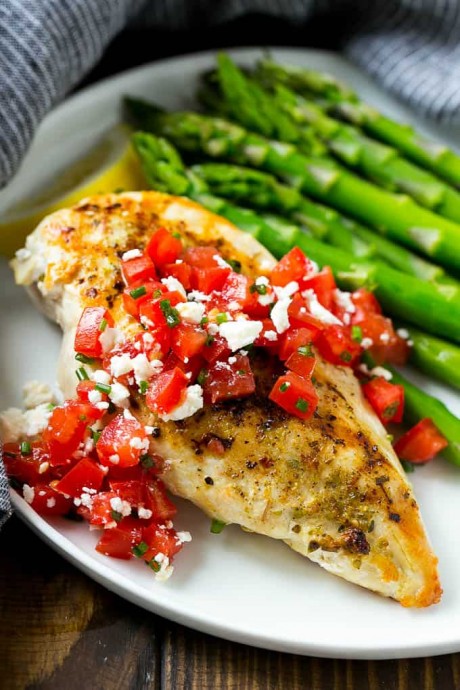 This easy chicken recipe is prepared with chicken breasts flavored with garlic and fresh herbs then topped with a fresh tomato and feta relish. Low in carbs, easy to make, so flavorful and the perfect lunch or dinner recipe.
So many ways to prepare chicken breasts and you always think of ways to come up with different recipes to keep it less boring. This Mediterranean chicken recipe is perfectly flavored with lemon juice, Italian seasoning, and garlic. Then topped with a delicious Mediterranean inspired tomato relish. Serve this quick and easy chicken breast recipe with a side of asparagus, broccoli or other grilled veggies. They are also great to add to your meal prep.
This tomato relish calls for fresh herbs such as chives, parsley and/or green onions. Using all those herbs is perfectly fine or you can choose one. Dice up tomatoes and place into a bowl, add the herbs, feta cheese, plus the fresh herbs and toss. I used Chives for this recipe. Finally, add salt and pepper to taste. Try a side of vegetables and some quinoa. So delicious.
Ingredients:
1 lb Boneless Skinless Chicken Breasts
3 Tbsp Olive oil Divided 2:1
2 Tbsp Lemon Juice
Salt and pepper to taste
1 Tsp Minced Garlic
1 Tsp Italian Seasoning
1 Cup Diced Tomatoes
¼ Cup Crumbled Feta Cheese
2 Tbsp Chopped Fresh Herbs such as chives, parsley or green onion