Christmas Sugar Cookies Recipe with Easy Icing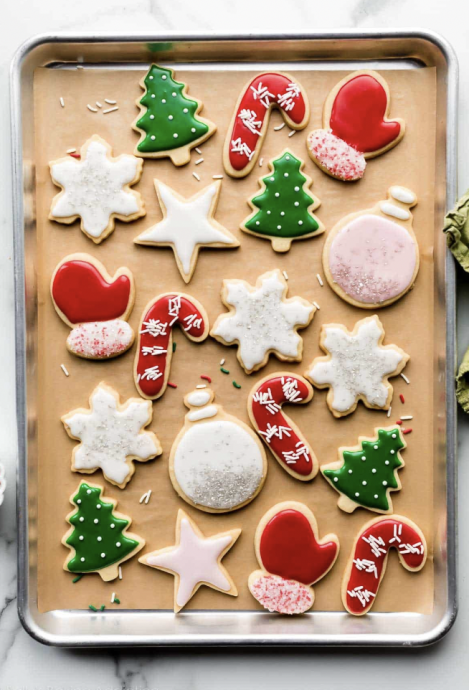 These are fan-favorite cut-out Christmas sugar cookies! My recipe for sugar cookies promises flavorful cookies with soft and thick centers, slightly crisp edges, and flat tops for decorating. The dough comes together with 7–8 simple ingredients, and the cookies hold their cookie cutter shape in the oven. Decorate them with my easy glaze cookie icing, a wonderful alternative to royal icing. Get out your rolling pin and favorite cookie cutters and have fun!
You need 7–8 ingredients for the dough. With so few ingredients, it's important to follow the recipe closely, because each one has an important job. Creamed butter and sugar form the base of the dough. Egg and flour provide structure, and vanilla adds flavor. I almost always add a touch of almond extract for additional flavor, and highly recommend that you try it too! You could also use peppermint extract or another flavor extract instead. Baking powder adds lift, and salt balances the sweet.
Ingredients:
Cookies
2 and 1/4 cups (281g) all-purpose flour (spoon and leveled)
1/2 teaspoon baking powder
1/4 teaspoon salt
3/4 cup (170g) unsalted butter, slightly softened to room temperature
3/4 cup (150g) granulated sugar
1 large egg*
2 teaspoons pure vanilla extract
1/2 teaspoon almond extract (optional, but makes the flavor outstanding)
Easy Icing
3 cups (360g) confectioners' sugar
1/2 teaspoon pure vanilla extract (omit and replace with water for stark white icing)
2 teaspoons light corn syrup*
4.5–5 Tablespoons (67–75ml) room temperature water
pinch salt*
optional: gel food coloring & sprinkles for decorating