Turkey Gravy Recipe without Drippings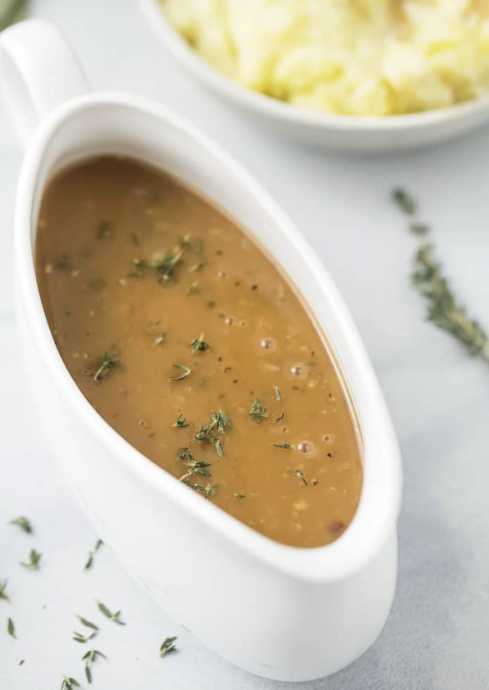 This turkey gravy is made without drippings and is an easy from scratch recipe that can be made ahead of time! It's a smooth, savory, garlicky brown gravy done in 15 minutes and loaded with comforting flavor. Absolutely perfect for the holidays!
Y'all, I'd like to say that this is my tried and true method to making gravy. That I've been making it this way for years! This smooth brown gravy is flavorful and the perfect accompaniment to your perfectly roasted Thanksgiving turkey, creamy mashed potatoes and cornbread stuffing!
One of the trickiest things about making gravy is getting the perfect thickness. A lot of it has to do with the thickening agent. I've used cornstarch and arrowroot, but the best thickener ended up being simple all-purpose flour.
If you're looking for a fool-proof brown gravy recipe for Thanksgiving, I've got you covered!
Ingredients:
3 tablespoons butter, unsalted
3 tablespoons flour
1/2 cup finely diced shallot
3 garlic cloves, minced
2 tablespoons white cooking wine
2 cups chicken bone broth
1 teaspoon fresh thyme
1 teaspoon fresh sage
salt & pepper