Chicken Stew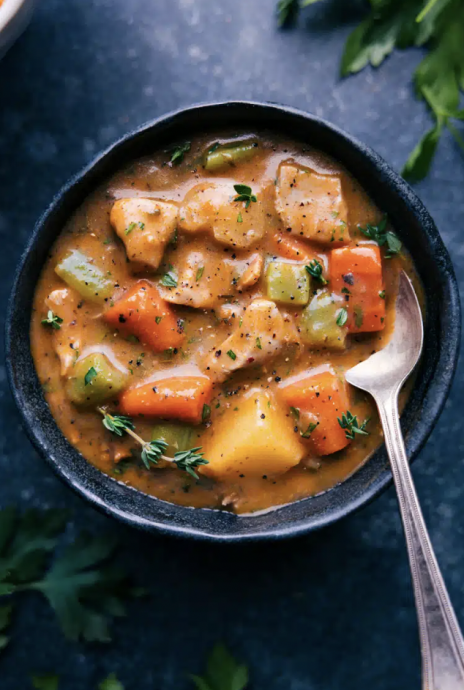 A hearty Chicken Stew with fall-apart-tender chicken, sweet carrots, smoky bacon, and more, all served in a deeply savory, thick, and luxurious gravy.
While a lot is contributing, the one ingredient that delivers such a rich and nuanced flavor to this stew: the chicken.
To get this rich flavor we want bone-in, skin-on chicken thighs. Bone-in chicken breasts will also work. Whatever you get, we want to make sure the meat has the bone left in.
We discard the bone after the chicken cooks, so why is it so important? Bones are living tissues and therefore rich in micronutrients and minerals. Not only do the bones provide nutrition, they also provide so much flavor. Bones also keep the meat from drying out (juicier chicken!) by helping to insulate the meat during cooking. The rich flavors of the marrow seep their way into the meat during the cooking process– which enhances the flavor of the entire chicken stew. You'll be amazed at the flavor difference of bone-in meat versus boneless here!
Ingredients:
4 slices bacon chopped
2-1/2 up to 3 pounds bone-in, skin-on chicken thighs (Note 1)
1-1/2 cups chunked large carrots (2 large or 1-1/2 cups baby carrots)
2 cups chopped yellow onion (1 large)
1 cup sliced celery (2-4 stalks)
2 teaspoons minced garlic (2 cloves)
1 tablespoon tomato paste
4 cups chicken broth, separated
1-1/4 cups dry white wine, divided (or use 1 cup additional chicken broth plus 1-3 tablespoons white wine vinegar)
2 teaspoons Worcestershire Sauce
2 bay leaves
3 tablespoons unsalted butter
1/3 cups all-purpose, white flour
2 teaspoons each: dried thyme and dried rubbed sage
1 teaspoon smoked paprika
Fine sea salt and black pepper
1-3/4 cups baby Yukon Gold potatoes, washed and quartered/cut into 1-inch pieces (3/4ths pound)
Optional: 2 tablespoons chopped fresh parsley (or 1 tsp dried parsley)