Breakfast Salad with Poached Eggs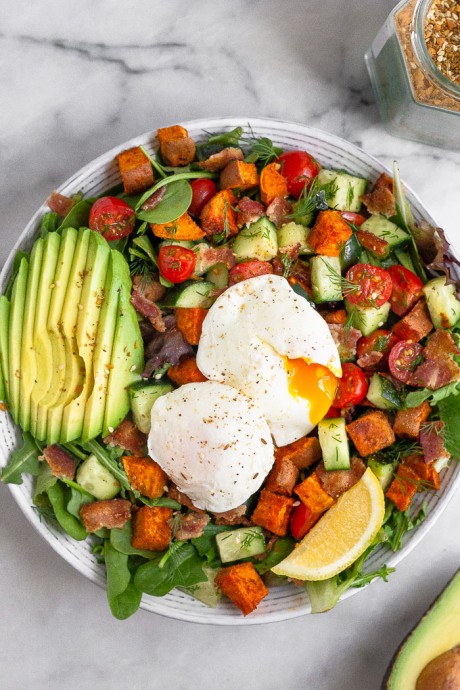 Veggie-packed breakfast that is full of protein, healthy fats, and tons of nutrients! This simple breakfast salad with poached eggs has all your breakfast favorites like roasted potatoes, bacon, and avocado, all topped over some greens for a delicious and nutrient-dense way to start the day! It makes the perfect Whole30, paleo, and gluten-free breakfast!
Salad for breakfast?! I know what some of you are thinking – why would I want to be eating a salad for breakfast? Well, I'm here to prove you wrong! With the right flavors and textures, it is a great way to start your day! A breakfast salad is a great way to up your vegetable game too. This breakfast salad recipe is packed with vitamins and minerals from the veggies, healthy fats and protein from the eggs and bacon, and complex carbs from the sweet potatoes. It's a nutrient-dense way to start the day with a mixed balance of macronutrients for steady blood sugar levels and energy. Feel free to adjust the ingredients and the amounts of each to make it your own!
This breakfast bowl takes a little bit of time, but is worth it! You can prep the ingredients ahead of time, or make it all at once. The hardest part will probably be the poached eggs, but I promise you they aren't hard to make at all.
Ingredients:
1 small sweet potato, diced (about 6.5 ounces)
2 teaspoons avocado oil (divided)
1/2 teaspoon paprika
1/2 teaspoon cumin
2 pieces bacon
1/2 cup diced cherry tomatoes (70 grams)
1 cup diced cucumber (120 grams)
1 tablespoon dill, roughly chopped
2 packed cups greens (mixed greens, spinach, baby kale, arugula)
1/2 small avocado, sliced (50 grams)
2 large eggs
1 tablespoon apple cider vinegar
salt and pepper, to taste
optional toppings: fresh dill, lemon juice, dukkah...