Candied Pecan Morning Glory Muffins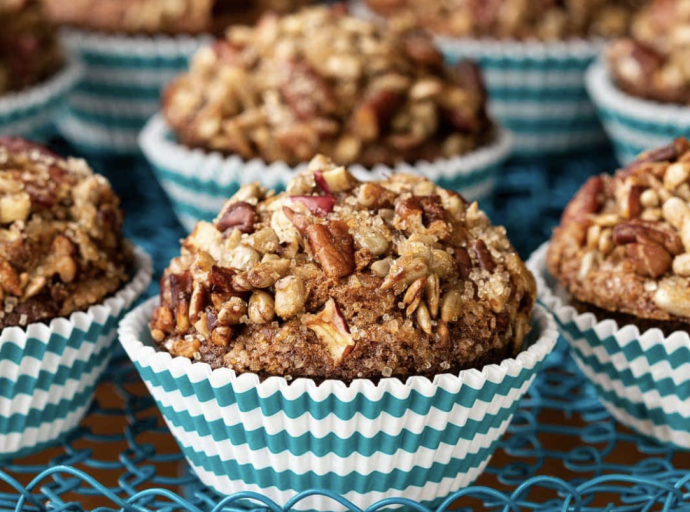 These rustically beautiful Morning Glory Muffins are moist and super delicious. They're also loaded with fiber - and lots of great nutrition!
Whenever I get a chance to visit a Whole Foods, I find myself wandering the aisles and checking out all the wonderful ingredients and prepared foods. I'm especially tempted when passing by the shelves laden with freshly baked muffins and the Morning Glory Muffins seem to always call my name.
They're sweet, moist and filled with wholesome ingredients including fresh carrots, shredded apples, raisins, coconut, walnuts and whole wheat flour. But they're quite pricey at Whole Foods, so a while back, I decided to do a little sleuthing and see if I could come up with a similar recipe. I found that Whole Foods actually has a recipe on their website for Morning Glory Muffins, but honestly, (don't tell anyone I said this) they look kind of flat and dry.
Ingredients:
For the candied pecan topping:
¾ cup chopped pecans
¼ cup sunflower seeds
1 tablespoon honey
1 teaspoon extra virgin olive oil
For the muffins:
2 cups whole wheat pastry flour
1 cup brown sugar packed
2 teaspoons baking soda
2 teaspoons ground cinnamon
½ teaspoon cloves
½ teaspoon ground ginger
½ teaspoon salt
2 cups shredded carrot
½ cup