Pork Roast with Crispy Crackling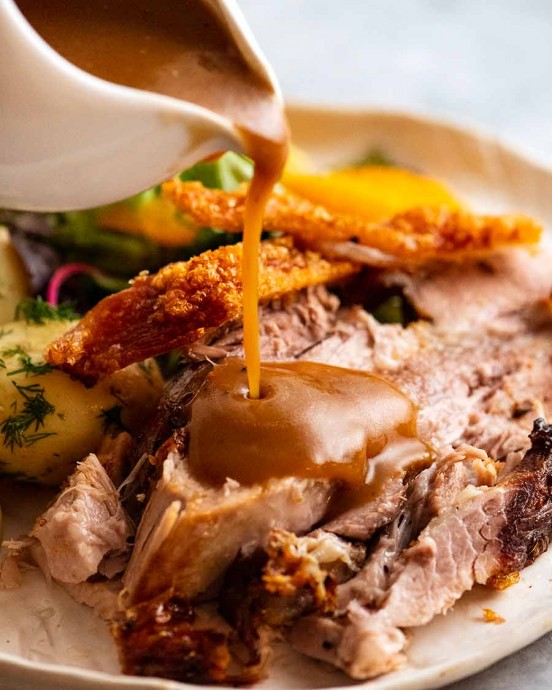 It's your dream come true: The best ever Pork Roast with ultra-tender flesh and ultra-crispy pork crackling! This pork shoulder roast uses a simple but highly effective method to make pork crackle really crispy. Every. Single. Time. And without scoring the skin!
Served with a homemade gravy for pork, this is The Roast Recipe I pull out that's a guaranteed hit, always. This perfect Pork Roast has: Slow-cooked, tender, juicy, flavor-infused flesh; Super-crispy, bubbly pork crackling all over – no rubbery or chewy patches at all; and it is best served with an incredible homemade gravy made with the pan drippings. This roast pork recipe comes with a gravy made using the drippings in the roasting pan which is absolutely loaded with flavor. The gravy is gold! So don't skip it! The crackling is so crispy, it will still be crispy even when cold, straight out out of the fridge. To heat it up, just reheat on a tray in the oven. If you reheat it with the meat in the microwave on the other hand, the surface goes soggy and it's just not as much fun. It's made without fussing with blow dryers, boiling hot water, or leaving the pork to air dry in the fridge overnight.
Ingredients:
3 kg/ 6 lb boneless skin on pork shoulder, NOT scored , unrolled / netting removed
3 tsp cooking / kosher salt
1 1/4 tsp black pepper
2 tsp fennel seeds (or other herb/spice of choice)
1 tbsp+ 1 tsp olive oil
1 garlic bulb , halved horizontally
2 onions , halved (brown, white, red)
2 cups dry white wine, or alcoholic or non-alcoholic cider
GRAVY:
1/4 cup flour
2 cups chicken broth/stock , low sodium
Salt and pepper