Air fryer zucchini & cheese phyllo pies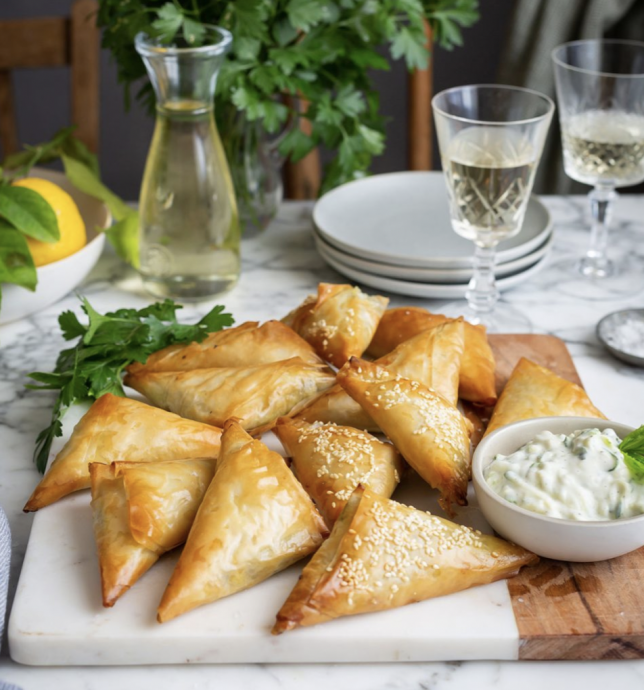 These air fryer zucchini and cheese phyllo pies are so delicious, golden and crunchy. Everyone will love them. Making them in an air fryer is so easy and takes only 12 minutes to bake. The filling is packed with so much flavour from the onion, garlic, lemon, parsley, oregano and dill.The filling can be made in advance and chilled if you prefer. Simply saute the onion, garlic, herbs and zucchini before adding the egg, cheese and yoghurt to the mix. I have used Kerrygold Butter to brush over the pastry. It's so creamy and delicious. I adore the Kerrygold Mature Irish Cheddar so have added this to the filling too.
Making these phyllo pies in an air fryer is such a breeze. My Instant Pot Vortex air fryer heats up in a couple of minutes so you can have these pies out within 15. Depending on the size of your air fryer you will want to do these in batches. Be careful not to overcrowd the basket. The Vortex can easily bake 6-8 at one time.
Ingredients:
2 Tbs Kerrygold butter
1 onion finely chopped
4 garlic cloves crushed
Approx 450gms (1 pound) of zucchini, trimmed and grated (shredded)
2 – 2/1/2 Tbs finely chopped Italian parsley (a small handful)
1 tsp dried dill (or use fresh about 2 tsp)
1 tsp dried oregano
Pinch of chilli flakes
100gms Kerrygold mature Cheddar, grated
1/3 cup (80ml) Greek yoghurt
1 large free-range egg
1 Tbsp fresh lemon juice
Salt and pepper
8 sheets of phyllo pastry
Approx 1/4 cup Kerrygold butter melted for brushing the pastry
Sesame seeds to sprinkle on top (optional)