Christmas Enchiladas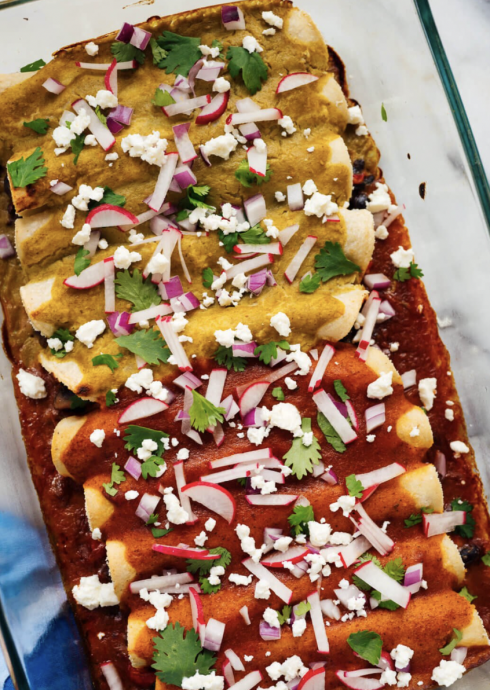 These red and green enchiladas are inspired by my trips to Santa Fe, New Mexico! I love visiting Santa Fe for my fill of saucy burritos, enchiladas and breakfast dishes. Whenever the server asks if I want red sauce, green sauce or both, the answer is always both. They call it Christmas-style or divorciadas (divorced).
Coming to you just in time for Christmas or Christmas Eve dinner, these enchiladas are a festive and delicious main dish. They're stuffed with vibrant vegetables, spinach, black beans, and enough cheese to qualify as a holiday meal.
For this recipe, you'll need to make both red sauce and green sauce. Both recipes are quite simple.
You can make double the enchiladas to use up both sauces (perfect if you're serving a crowd) or simply freeze half of each for a future batch of Christmas enchiladas. Another option? Keep both in the fridge and drizzle them over improvised dishes like quesadillas and eggy breakfasts.
Ingredients:
½ batch (1 cup) red enchilada sauce
½ batch (1 cup) green enchilada sauce
2 tablespoons extra-virgin olive oil
1 large yellow onion, cut into 2" long thin strips
2 medium red bell peppers, cut into 2" long thin strips
¾ teaspoon fine salt, divided
8 ounces Baby Bella mushrooms, cleaned and thinly sliced
5 ounces baby spinach
4 cloves garlic, pressed or minced
1 teaspoon ground cumin
1 can (15 ounces) black beans, drained and rinsed, or 1 ½ cups cooked black beans
Freshly ground black pepper, to taste
4 ounces (1 packed cup) Monterey Jack cheese or pepper jack cheese (for extra kick)
10 corn tortillas
Garnishes: Chopped red onion or radish or green onion, cilantro leaves and crumbled Cotija or feta cheese