Pumpkin Soup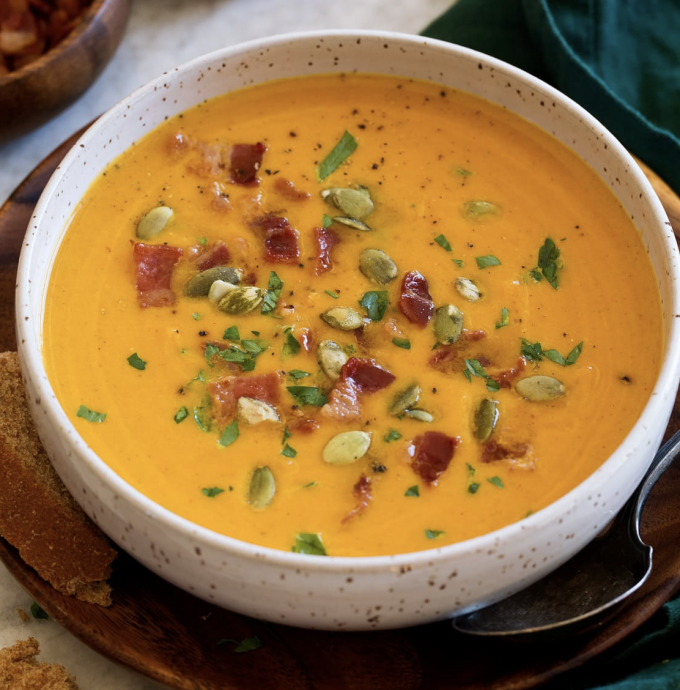 The easiest, tastiest Pumpkin Soup recipe! This creamy, cozy soup is one of the ultimate fall soups. It's warmly spiced, perfectly sip-able, and those toppings of salty smoked bacon and crunchy pumpkin seeds take it over the top!
This is my idea of the best pumpkin soup! It's like autumn in a bowl and it has such inviting flavor, plus it couldn't be easier.
No chopping, seeding, roasting and pureeing pumpkin necessary in this recipe. Believe it or not this starts with canned pumpkin and you will be wowed by the end result!
Ingredients:
6 Tbsp Danish Creamery Premium Butter, cut into 1 Tbsp pieces
3 cups chopped yellow onions
4 tsp minced garlic (4 cloves)
4 tsp peeled and minced fresh ginger
1 tsp ground cumin
1 tsp ground coriander
1/2 tsp cinnamon
1/2 tsp ground nutmeg
1/4 tsp cayenne pepper
8 cups low-sodium chicken broth
1 (29 oz) can pumpkin puree (not pie filling!)
1/4 cup maple syrup
Salt and black pepper
1 Tbsp apple cider vinegar
3/4 cup heavy cream
Optional toppings
Cooked bacon, chopped
Shelled pumpkin seeds
Chopped parsley