Gluten-Free Apple Cider Donut Cake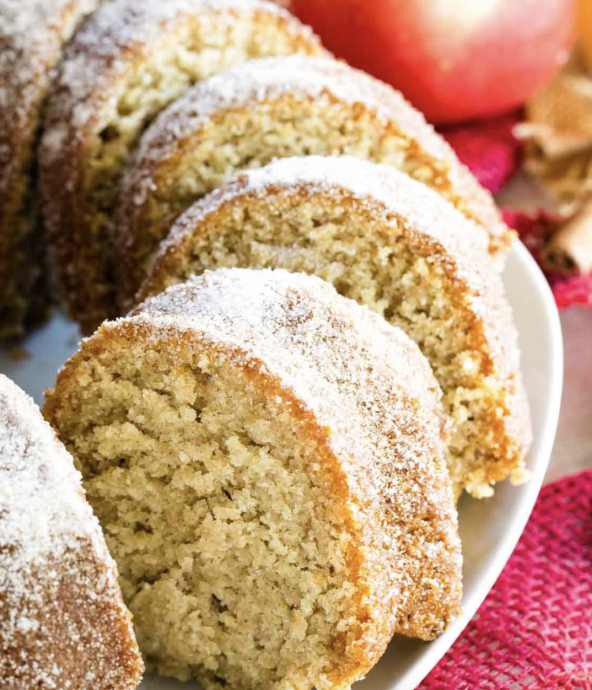 This tender Gluten-Free Apple Cider Donut Cake is flavored with apple cider and coated in cinnamon sugar. So not only does it taste like an apple cider doughnut, it looks like one too!As you probably know, there are two kinds of donuts – yeast or raised donuts. My Air Fryer Gluten-Free Glazed Donuts are an example of yeasted donuts. Since apple cider donuts are a type of cake donut, then it only makes sense to turn them into one giant donut – an apple cider donut cake! And of course, I made my cake gluten-free so that I could have some.
I served warm slices of fresh donut cake to my family and they all said the flavor and texture of this confection reminded them of the orchard. Success! I hope you make this gluten-free bundt cake and get in on some of this goodness.
Ingredients:
For the cake:
1 cup brown rice flour (*see note)
1/2 cup tapioca starch
1/3 cup potato starch
1 1/2 cups oat flour (*see note)
1 teaspoon xanthan gum
1 1/2 cups sugar
1 teaspoon cinnamon
1 1/2 teaspoon baking powder
1/2 teaspoon baking soda
1/2 teaspoon salt
1 cup apple cider
3/4 cup unsweetened applesauce
3/4 cup vegetable oil , such as canola or safflower
3 large eggs
2 teaspoons vanilla extract
For the topping:
2 Tablespoons unsalted butter , melted
1/4 cup sugar
1/2 teaspoon cinnamon