Sweet Potato Cinnamon Bread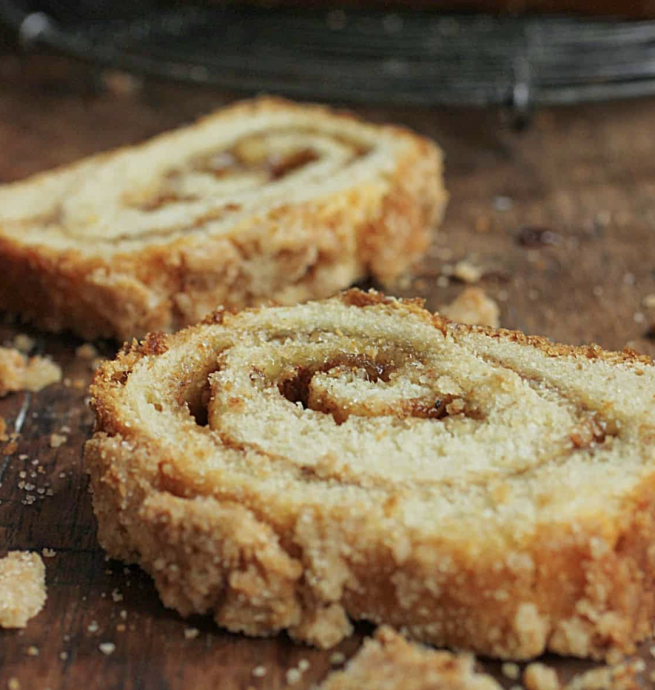 This bread is a cold-weather dream come true, with sweet potatoes, spices, and a crunchy topping that will make you lick your fingers. It can be frozen and it makes great sweet toast.
Breakfast and brunch. This sweet potato bread makes great sweet toast. The cinnamon sugar caramelizes and adds even more crunch. You don't even need a topping.
Freezable. The recipe makes 2 loaves so my top recommendation is to slice leftovers and freeze them.
Flavor. It reminds me of cinnamon bread with a different undertone. The spice swirl is what makes it sweet and moist, and the crunchy topping, well, you'll love it! It's a traditional streusel, but it adds a layer of flavor that makes the whole so much better than the parts.
Ingredients:
For the bread:
1 tablespoon active dry yeast
Pinch of sugar
¼ cup warm water
1 cup warm buttermilk
1 cup sweet potato purée (see Notes below)
3 tablespoons sugar
3 tablespoons sunflower or canola oil
1 egg
Grated zest of 1 lemon
About 4 to 4 ½ cups bread flour
For the spice streusel:
¼ cup sugar
¼ cup brown sugar
Grated zest of 1 orange or lemon
½ teaspoon cinnamon
Pinch each of ground ginger and allspice
⅓ cup all purpose flour
4 Tbs 60g butter, cold, cut into pieces
For the spiced sugar:
1 ¼ cups light brown sugar
1 teaspoon ground cinnamon
1 teaspoon ground ginger
½ teaspoon ground allspice
3 tablespoons unsalted butter, melted + additional for pans