Hearty Chili Beef Soup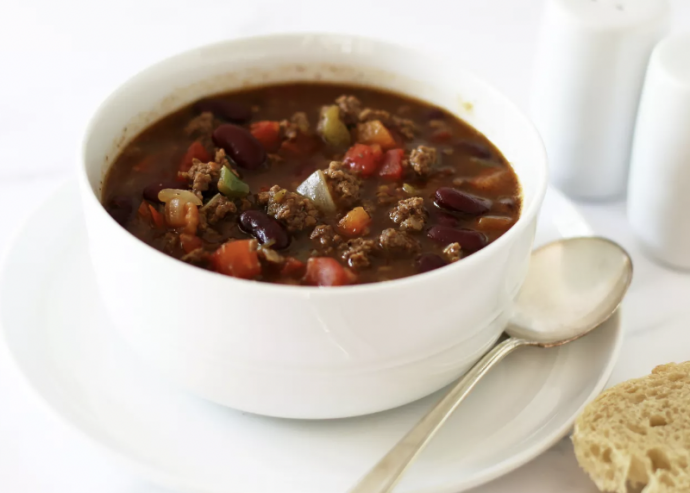 This hearty ground beef soup obtains its great flavor from chili seasonings, peppers, and tomatoes. The soup offers a beefy, slightly thickened broth and all of the great ingredients you'll find in your favorite chili.
Like many soups, this one is quite versatile. Add extra vegetables to the soup if you like. Corn is an excellent option for both flavor and color, or add about 1/2 cup of diced carrots and simmer the soup until they are tender. Or replace half of the beef with sliced sautéed mushrooms. The recipe calls for kidney beans, but feel free to replace them with black beans, pinto beans, small red beans, or Great Northern beans. And there are many different kinds of tomatoes in supermarkets. Use fire-roasted or chili seasoned tomatoes, or make the soup with basic diced or petite diced tomatoes. If you like spicy flavor, add a small amount of cayenne pepper when you add the chili powder.
The soup is excellent with cornbread or crusty bread, or serve it with a topping of tortilla strips. Make it a day in advance if you'd like. It tastes even better the next day, and it reheats beautifully.
Ingredients
1 medium onion
1 small red bell pepper, or a combination of red and green pepper
2 cloves garlic
1 1/2 tablespoons vegetable oil
1 pound lean ground beef
2 tablespoons all-purpose flour
1 tablespoon chili powder
1/2 teaspoon ground cumin
1 (4-ounce) can mild green chile pepper, coarsely chopped
1 (14.5-ounce) can diced tomatoes
2 1/2 cups beef stock, preferably unsalted or low sodium
2 cups cooked kidney beans, fresh or canned, drained and rinsed
Kosher salt, to taste
Freshly ground black pepper, to taste
2 tablespoons coarsely chopped fresh parsley, optional
1/2 cup shredded cheddar or Monterey jack cheese