Chocolate Candy Cane Cake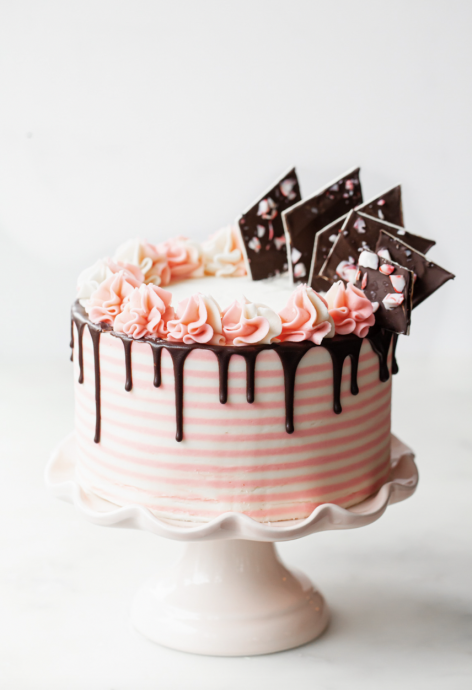 Get your cake and peppermint bark fix at the same time with this Chocolate Candy Cane Cake!
Layers of moist chocolate cake alternate with peppermint buttercream inside while pink and white candy cake strips, chocolate drip, and homemade peppermint bark decorate the outside. Serve the cake a room temperature. It may be stored at room temperature (preferable in a box or cake container) overnight.
Store the peppermint bark in an air-tight container at a cool room temperature.
Store leftovers, loosely covered in the plastic wrap, in the refrigerator for up to 3 to 4 days. Allow cake to come to room temperature before serving.
You can freeze the baked, cooled, and unfrosted cake layers. Wrap well in plastic and store in the freezer for up to 3 months. Thaw the cake layers in the refrigerator overnight before use.
Ingredients:
Chocolate Cake
1 ¾ cup + 2 tbsp all-purpose flour
¾ cup unsweetened cocoa powder
1 ½ teaspoon baking powder
1 teaspoon baking soda
¾ teaspoon salt
½ cup grapeseed oil or canola oil
1 ½ cups granulated sugar
1 teaspoon pure vanilla extract
2 large eggs
¾ cup whole milk
1 cup hot coffee or water
Peppermint Buttercream
1 ½ cups unsalted butter at room temperature
5 to 6 cups confectioners' sugar
2 to 4 tablespoon milk
1 teaspoon vanilla extract
½ teaspoon peppermint extract or to taste
Chocolate Glaze
2 oz semi-sweet chocolate chopped
¼ cup heavy cream
2 tablespoon light corn syrup
1 pinch salt
Peppermint Bark
4 oz white chocolate or compound chocolate
¼ teaspoon peppermint extract
4 oz dark chocolate
4 to 6 peppermints crushed