Pork and Sage Sausage Rolls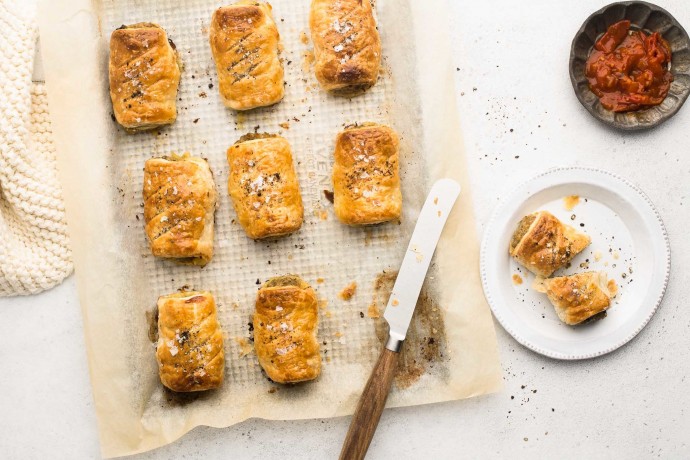 No party is complete without a batch of sausage rolls, and these classic Pork & Sage Sausage Rolls will be a hit with your friends and family! A sausage roll is a meat filling, shaped like a sausage, and encased in puff pastry. Sausage rolls are very popular as a light lunch, usually with a good serving of tomato sauce (ketchup), and almost always eaten with the hands. They are typically sold in bakeries and sandwich shops, and even school canteens will have them on the menu for the kids. But these days, it is also common to find more posh and "gourmet" sausage rolls sold in cafés and restaurants which are typically served with a green salad, and which you can, of course, eat with a knife and fork.
Some sausage roll recipes simply call for sausage meat, i.e. the meat removed from the sausage casings, wrapped in puff pastry. If you need a short-cut and have some good-quality pork sausages, this is a quick route to a delicious snack. My sausage roll recipe makes the sausage meat from scratch. I like to use a fatty pork mince, or a mix or pork and veal, and I add lots of flavour through a mix of herbs and seasoning. And as my kids love to eat sausage rolls, I always sneak in carrots, and sometimes spinach too. I love sausage rolls served simply with a good squirt of tomato sauce (ketchup) on top. But for something more refined, they are great with Cherry Tomato Relish.
Ingredients:
1 large onion, roughly chopped
2 garlic cloves
2 small carrots, peeled and roughly chopped
1–2 tablespoons olive oil
650 g (1.5 lb) pork mince (ground pork) (or a mix of pork and veal)
6 sprigs of parsley
1 teaspoon sea salt
1 teaspoon freshly cracked black pepper
1 tablespoon chopped fresh sage or 1 teaspoon ground sage
1 tablespoon chopped fresh thyme or 1 teaspoon dried thyme
1 teaspoon Herbs de Provence (optional)
1 tablespoon Worcestershire sauce
1 cup fresh breadcrumbs or Panko breadcrumbs
puff pastry (I use 2 rectangular sheets which are 25 x 42 cm/10 x 16 inch)
sesame seeds or poppy seeds (optional)
For the Egg Wash
To Serve
Cherry Tomato Relish
tomato sauce (ketchup)