Apple Coleslaw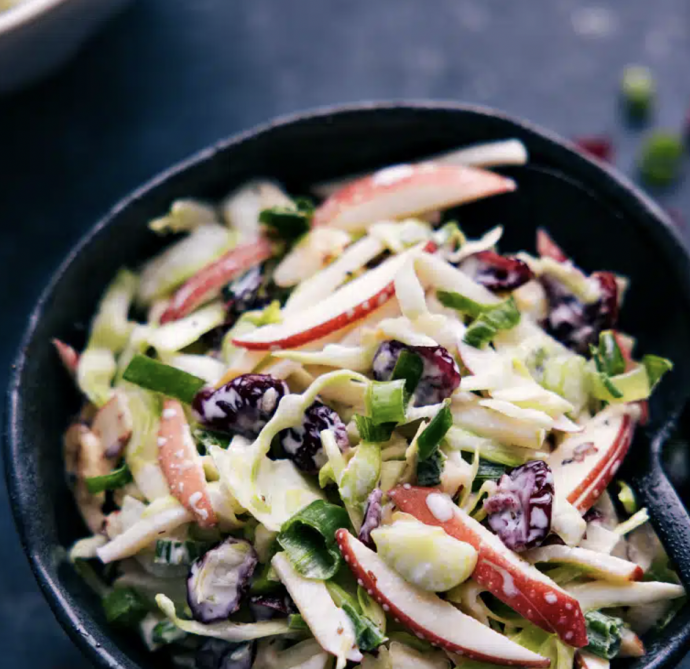 Apple Coleslaw combines green cabbage, tart apples, sweetened cranberries, and crisp almonds with an ultra-creamy and multi-dimensional dressing. Instead of just using mayo, we also use sour cream, Dijon mustard, and a few other ingredients that add such a great flavor.
I'm a coleslaw fanatic. I love it through and through, which leads me to find every possible excuse to add it into my lunches or dinners. These BBQ Chicken Sandwiches or this irresistible Crockpot BBQ Pulled Pork–I make both frequently and layer 'em high with my favorite homemade Coleslaw.
So, it only made sense to create a fall/winter version of a summer favorite. And let me tell you–this recipe is a reason to crave cooler weather! It's sweet, tangy, crunchy, and completely delicious! I've thrown it in just about every lunch wrap/sandwich and even added it to my Thanksgiving menu! I mean, Cranberry Sauce over turkey is good and all, but topping it with the best Apple Coleslaw recipe? Game changer!
Ingredients:
1 small green cabbage, shredded (7 cups packed)
1/2 cup celery very thinly sliced (2 stalks)
2 large apples, sliced into matchsticks (about 3-1/4 cups) We like Honeycrisp best!
1/2 cup sliced green onions
3/4 cup sliced almonds
3/4 cup dried sweetened cranberries
DRESSING
1/2 cup mayonnaise Recommended: Hellman's
1/2 cup sour cream
1-1/2 tablespoons apple cider vinegar
2 teaspoons Dijon mustard
2 tablespoons honey (or more if you want it sweeter)
Fine sea salt & pepper
1/4 teaspoon celery seed, optional