"No Pasta" Three Cheese Zucchini Lasagna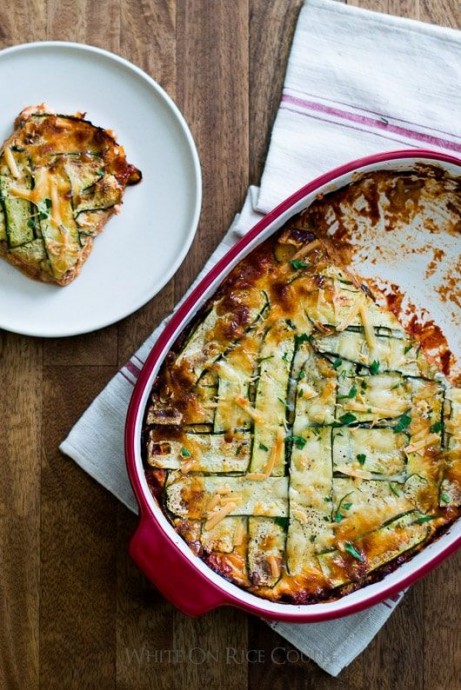 This zucchini lasagna recipe is literally lasagna without the pasta. It's sheets of zucchini rather than lasagna pasta. The result is a delicious casserole that's low carb and amazing.
It's such a versatile vegetable and it doesn't hurt to add more veggies to our daily menu! Lasagna in any form or filling has to be up there on our list of comfort food favorites. It even holds high along side macaroni and cheese. What's not to love about lasagna? They're saucy, cheesy and perfect to fill with our favorite ingredients. The possibilities are endless when we can really start to think outside the basic fillings. How about adding layers of quinoa or couscous for some healthier options without all the meat and cheese? Or even ground turkey instead of beef. How can you not get hungry just thinking about lasagna now?
Zucchini "no pasta" lasagna makes this less calorie and lower carb compared to traditional lasagna. Trust us, you really don't miss all the pasta layers and will probably be glad to have some less carbs if you're a double or triple-serving type of person. The only thing different with using the zucchini slices to replace the pasta in this zucchini lasagna is that you'll have more water-release from the zucchini. Adjust baking time a bit shorter so zucchini doesn't become too mushy. Some moisture from zucchini will release but not as much as using raw zucchini. Overall textures of the zucchini will be slightly softer, so don't over-bake.
Ingredients:
"Thick" Tomato Sauce
1 tablespoon (15 ml) olive oil
1 small onion , minced
4 large cloves garlic , minced
15 ounces (425 g) tomato sauce (about 2 cups)
6 ounces (170 g) tomato paste (about 2/3 cup)
1 teaspoon (5 ml) sugar
¼ teaspoon (1.25 ml) dried thyme leaves
¼ teaspoon (1.25 ml) dried basil leaves
2 teaspoons (10 ml) Worcestershire sauce
kosher salt or sea salt, to taste
fresh cracked black pepper , to taste
Lasagna
4 pounds (1.81 kg) zucchini , sliced ¼-inch, used raw or (optional-broiled or pan seared to remove moisture-see head note)
1 ½ cups (370 g) ricotta (15oz or 425 grams)
4 ounces (113 g) shredded Parmigiano Reggiano cheese (1 cup)
1 large egg
¼ cup (60 ml) chopped Italian parsley leaves
fresh cracked black pepper to taste
4 ounces (113 g) grated mozzarella (1 cup)
4 ounces (113 g) grated smoked gouda , cheddar, jack or any good melting cheese (1 cup)
optional garnish of minced parsley or fresh cracked black pepper
For the Broiled Zucchini slices (optional)
Zucchini
Olive oil
Kosher salt
Fresh cracked black pepper