Gingerbread Cinnamon Rolls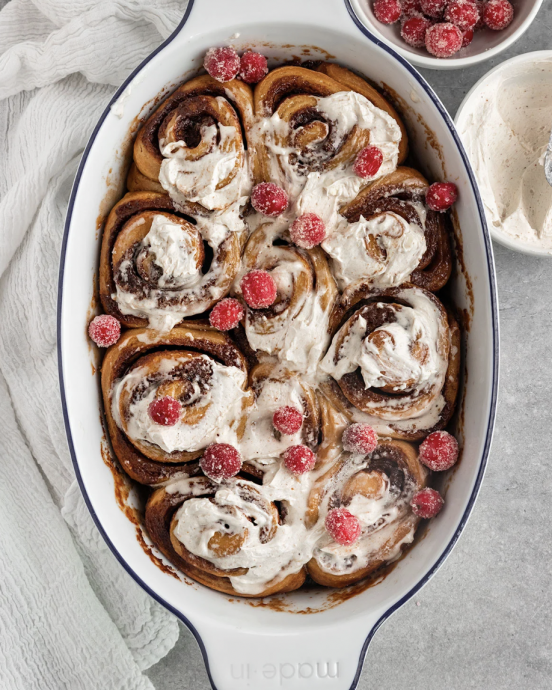 These Vegan Gingerbread Cinnamon Rolls combine molasses bread dough filled with swirls of spiced cinnamon sugar topped with cinnamon cream cheese frosting & sugared cranberries. They are oooey, gooey, and so delicious!
While gingerbread cookies are always a classic, these ginger cinnamon rolls have all the same spicy-sweet flavor with added gooey goodness!
Ingredients:
Cinnamon Roll Ingredients
¾ cup luke warm water
2 ½ teaspoons active dried yeast
⅓ cup melted vegan butter
¼ cup sugar
2 Tablespoons fancy/light molassess
1 teaspoon vanilla bean paste or vanilla extract
3 ¼ cups all-purpose flour
½ teaspoon salt
½ teaspoon ground ginger
½ teaspoon ground cinnamon
Filling Ingredients
⅓ cup vegan butter room temperature
⅔ cup brown sugar
1 Tablespoon ground cinnamon
½ teaspoon ground ginger
¼ teaspoon nutmeg
2 Tablespoons plant-based creamer or coconut milk
Frosting & Topping Ingredients:
¼ cup vegan butter
¼ cup vegan cream cheese
1 teaspoon ground cinnamon
¼ teaspoon nutmeg
1 cup powdered sugar
¼ cup sugared cranberries