Best Shepherd's Pie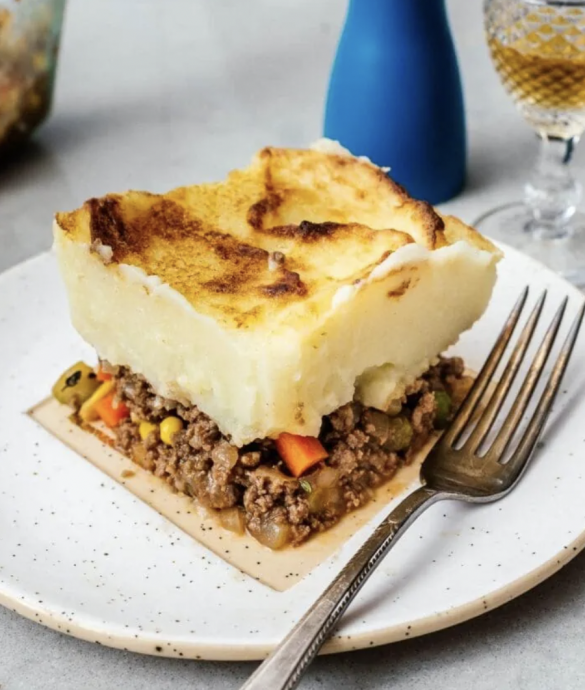 There's just something so cozy and comforting about a big bowl – yes, I have to have it in a bowl – of super savory saucy beef mixed with corn and peas topped off with a huge pile of creamy mashed potatoes.
I still eat it the same way I did when I was little: I mix everything together so each bite is essentially mashed potatoes with meat mixed in. I use a spoon so everything goes from the bowl to my mouth in no time flat. For me I can't imagine anything more cozy than being wrapped up in a blanket, on the couch, with a bowl of shepherd's pie.
But wait! You're probably thinking to yourself right now, shepherd's pie isn't made with beef. And you're right! Shepherd's pie is traditionally made with lamb, but beef is just as tasty – if not more! Technically what I love eating is called a cottage pie, but tomato, to-mah-to, am I right? Whatever you want to call it, a super savory meaty ragu topped off with creamy mashed potatoes is a comfort food classic, one that you'll come back to time and time again.
We're making a classic shepherd's/cottage pie with ground beef, onions, garlic, celery, carrots, corn, peas, herbs, potatoes, butter, sour cream, and just a touch of soy sauce and tomato paste to bring everything together and give the pie an extra boost of flavor.
Ingredients:
1.5 lb potatoes Yukon gold, peeled and quartered, about 3-4 large potatoes
1 medium onion diced
2 cloves garlic crushed
2 small carrots peeled and diced
2 stalks celery diced
1 lb ground beef lean preferred, or lamb
1 tbsp flour
1/2 cup beef stock no sodium preferred
1 tbsp tomato paste
2 tsp soy sauce
2 sprigs fresh thyme
1 sprig fresh rosemary minced, leaves only
1/2 cup corn
1/2 cup frozen peas
3 tbsp butter divided
1/4 cup sour cream
1/4-1/2 cup milk