Chicken Enchilada Casserole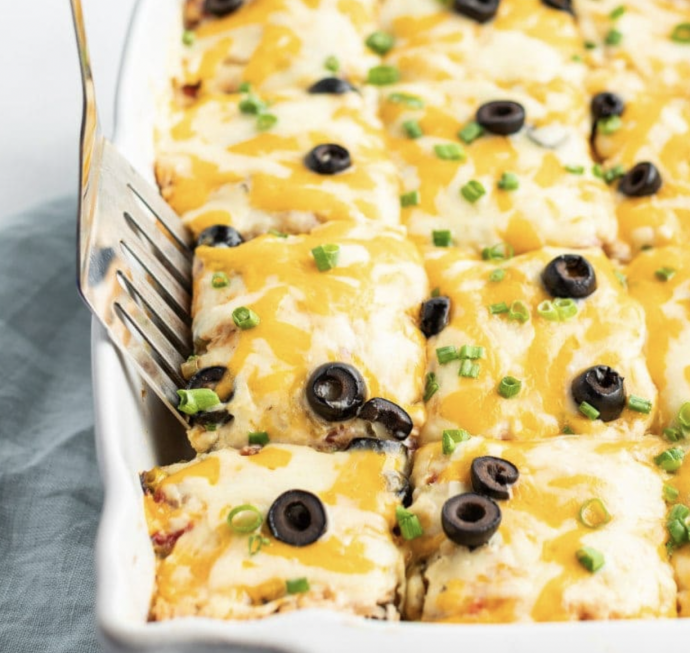 This Chicken Enchilada Casserole recipe is a lighter version of the original.
This Chicken Enchilada Casserole is always a big hit for dinner. It's slightly lightened up to save on fat and calories, and it's a comfort food dish that feels a little less guilty to eat.
First you'll cook the chicken breasts in a pan and then shred the chicken. Then you'll cook the onion and garlic, and then you'll add the shredded chicken/beer/cayenne and tomatoes. Then you'll stir in green onion, olives and chiles to complete the chicken mixture.
Next, you'll make the white chicken enchilada sauce. Milk is heated in a pan, and then flour/salt/cumin/coriander and heat and stir until thickened. Then you'll mix the hot milk mixture with egg whites to thicken it further and complete the enchilada sauce.
Ingredients
1¼ pounds boneless, skinless chicken breasts
1½ cups chopped onion
4 medium garlic cloves, minced
1/2 cup beer (can substitute chicken broth)
1/4 teaspoon ground cayenne pepper
One 28-ounce can chopped tomatoes, drained
1/2 cup thinly sliced green onions, divided
Two 2.25-ounce cans sliced olives, drained (divided)
Two 4-ounce cans chopped green chiles, drained
5 tablespoons all-purpose flour
1/2 teaspoon salt
1/4 teaspoon ground cumin
1/4 teaspoon ground coriander
2 cups 1% low fat milk
2 large egg whites, beaten
1½ cups reduced-fat Mexican blend cheese (or blend cheddar and Monterey Jack)
Six 6-inch corn tortillas, cut in half
1/2 cup light sour cream
1/2 cup salsa