Baked Eggplant Parmesan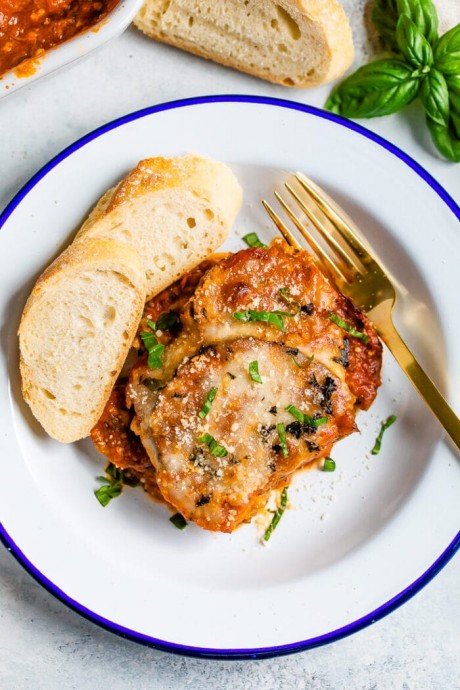 Make a healthy baked eggplant Parmesan with crispy almond flour-coated eggplant slices that are baked — no frying or bread crumbs needed! Obviously we love the final result, but I also have to mention how tasty the baked eggplant is on its own! It's almond flour Parmesan coating makes it crispy and so tasty. It would honestly be an awesome appetizer on its own, served with a side of tomato sauce for dipping.
If you have a nut allergy or don't have almond flour on hand, don't fret! I tested this recipe with almond flour and bread crumbs and both versions turned out perfectly, so you can use whichever you prefer! Turns out, the process of making eggplant Parmesan is pretty simple, and you need less than 10 ingredients to whip it up. And to keep things really easy, healthier and less messy, we're baking the eggplant instead of frying it. If you don't eat dairy I recommend finding a dairy-free shredded mozzarella or vegan Parmesan.
Ingredients:
2 medium eggplants, sliced into 1/2" thick rounds
2 large eggs
1 cup almond flour
1 cup freshly grated Parmesan, divided
2 teaspoons Italian seasoning
1/2 teaspoon sea salt
Freshly ground black pepper
Cooking spray
1 24 oz jar (3 cups) marinara sauce
2 cups shredded mozzarella
1/3 cups thinly sliced basil