Lighter Overnight French Toast Casserole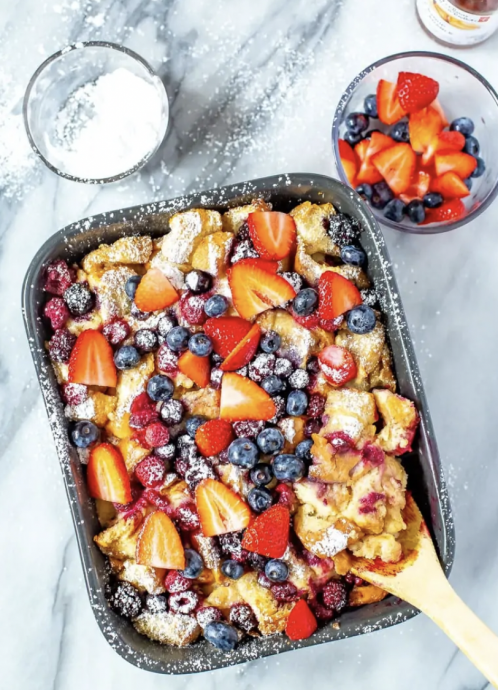 This Lighter French Toast Casserole can be stored overnight and cooked fresh in the morning – serve with berries and maple syrup!
If you find that your French toast casserole is soggy, you likely used sandwich bread, which gets soggy if it sits too long in the liquid mixture. I suggest using brioche, challah or French bread if you plan on making this casserole the night before so it doesn't get soggy! If all you have on hand is regular sandwich bread, limit the soaking time to no more than 10 minutes.
Other breakfast foods are natural side dishes for this French toast casserole. Try serving it with bacon, fresh fruit, sausage, eggs or home fries if you're serving a large crowd. You can divide the servings into 12 portions and then have some extra protein or side dishes available to feed everyone. It's the perfect dish for Christmas morning or big brunches!
Ingredients:
1 loaf bread
4 eggs
1 1/2 cups milk
1/3 cup maple syrup
1/2 tsp cinnamon
1/3 cup butter, melted
1 cup frozen mixed berries
icing sugar, for topping
maple syrup, for topping
1 cup fresh berries, for topping