Baked Cranberry Brie Bread Bowl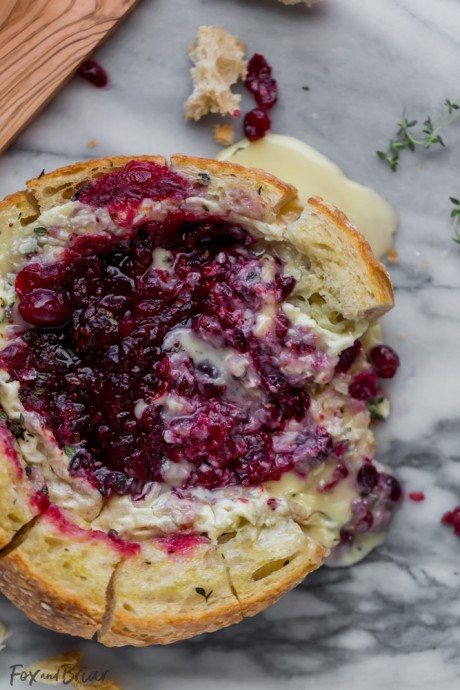 This tear apart Baked Cranberry Brie Bread Bowl is a beautiful holiday party appetizer. Melty brie and sweet tart cranberry sauce are a match made in heaven!
You guys are going to love this fancy but easy holiday appetizer – Baked Cranberry Brie Bread Bowl! Fun fact - the bread bowl pulls apart and you dip the bread in the bowl!
This Baked Cranberry Brie Bread Bowl is my favorite kind of appetizer – fancy, impressive, delicious – and super easy.
The key to this is to get a high quality, crusty bread boule ( A round loaf of bread). Slice the top off, then use a wheel of brie to measure a circle in the middle. Cut a circle around the brie, then hollow out the circle. Cut slices around the edge of the bread about 1.5 inches apart – cut about 3/4 of the way, but not all the way through the bottom. This will create pull apart pieces for people to pull and dip after the bread is done.
A quick bake in the oven will make the cheese all melty and gooey. Serve right away – your guests will love this! I toasted the extra bread that I tore out of the middle to serve along side the bread bowl as well. Great Christmas Appetizer!
Ingredients:
1 bread boule round loaf of rustic bread
1 wheel of brie about 12 ounces, top of rind removed (use triple cream if you can)
1/2 cup whole berry cranberry sauce
2 tablespoons fresh thyme leaves
2 tablespoons olive oil
kosher salt
fresh ground pepper