Apple Cake with Cream Cheese Frosting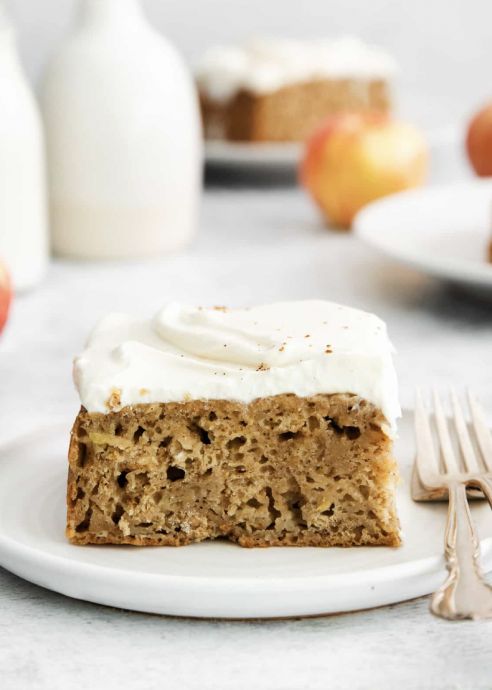 This apple cake recipe goes perfectly with a cup of coffee for breakfast or makes a great healthy dessert! Get out your chai spice, apples, and applesauce and you'll have a delicious healthy apple cake ready to eat all week long.
When in doubt about what dessert to serve at your next gathering, apple cake is the answer. It's so incredibly easy to make, moist, and it's a crowd-pleaser. It is one of those cakes where you mix everything together and not think much about it.
Ingredients:
Dry
3 cups all-purpose flour
1 teaspoon baking powder
1 teaspoon baking soda
4 teaspoons homemade chai spice we use this homemade chai spice
1 teaspoon kosher salt
Wet
1 cup light brown sugar
1 cup maple syrup
2 teaspoons vanilla extract
2 cups unsweetened applesauce
2 cups shredded Honeycrisp apple ~ 3 medium apples, moisture removed
1/2 cup 2% Greek yogurt
1 cup plain unsweetened almond milk
4 large eggs
Frosting
8 oz. fat-free cream cheese room temperature
1 cup 2% plain Greek yogurt, almost room temperature
⅓ cup maple syrup or more to taste