Simple Blueberry Cake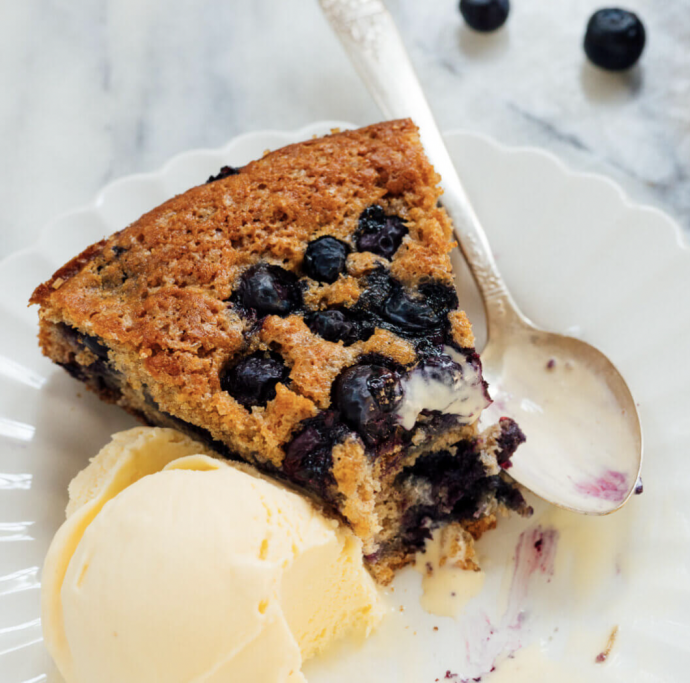 This blueberry cake is my official summertime dessert. I hope it becomes yours, too. It's tender, fully loaded with blueberries, and simple to make—no mixer required. It's a dream!
This blueberry cake recipe is naturally sweetened with maple syrup, which makes it extra delicious. Thanks to the blueberries and maple syrup, it's nicely sweet but not over the top. Some cakes are so sweet that they give me a stomachache, but this one is just right.
Ingredients:
1 ¾ cups plus 1 teaspoon white whole wheat flour or regular whole wheat flour
1 teaspoon baking powder
½ teaspoon baking soda
½ teaspoon fine sea salt
¼ teaspoon ground cinnamon
½ cup maple syrup or honey
6 tablespoons melted butter
2 eggs, preferably at room temperature
⅔ cup buttermilk*
2 teaspoons vanilla extract
3 cups blueberries, fresh (1 ½ pints) or frozen, divided
1 tablespoon turbinado sugar (also called raw sugar), for sprinkling on top
Optional serving suggestions: Vanilla ice cream, Greek yogurt or whipped cream